Digitise the daily visual management system
Across their operations, teams at Alcoa use a daily visual management (DVM) system to plan daily actions and priorities, which they are looking to digitise. Alcoa is a global leader in the production of Bauxite, Alumina and Aluminium products. Their operations span mining, refining and smelting across 5 continents. 
At the start of a shift each team will run a meeting, using a visual board, to discuss and decide as a group what these priorities will be. The board includes information on the status of operations to inform the decisions. This process helps abnormal conditions stand out, helps the group problem solve together and builds a problem-solving culture.
This is currently a manual process and Alcoa have an audacious goal to digitise the daily visual management system across 3 sites by March 2020, with the intention to role out digitisation at 27 sites globally. Alcoa are therefor looking for software solutions that digitise the process.
Current Process
To explore the current process, we use an example from the Wagerup Refinery in Western Australia. All other operations have very similar processes.
Wagerup has 630 people working on site

The site is split into 7 operating centres led by an Area Manager, and 1 main admin building where some of the support functions are located

A typical toolbox huddle (start of shift meeting) will have about 9-10 people including the supervisor.

A level 1 DVM meeting will have about 8 people from multiple disciplines (see sample board below)
Each team within the refinery starts their shift with a team meeting using the daily visual management board. In this example we look at the Wagerup Control Room, where each team hosts their own meeting. The board includes print outs from many of the different systems that operate within the refinery, providing status of the operations. Some of these will be updated daily, some weekly. During the meeting, the team decides on the top priorities and actions for the day. The teams may directly write actions on the board, move magnets to demonstrate completed tasks, or tag priorities. The priorities and actions are not recorded digitally.
Examples include;
Issue                                                      Action                                                    Who               By When
Clarities Metric above target          Check Spigots on presses 7&11        Jack & Jill          17:00
Pump overhaul delayed                  Reschedule to Friday                          Tom D               12:00
A key principle behind the DVM approach is the all the team to "See, Know and Act together"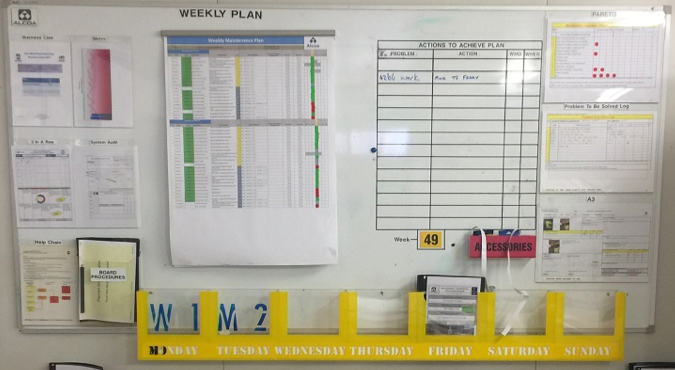 Fig. 1. Example DVM Board: Wagerup Maintenance Work Execution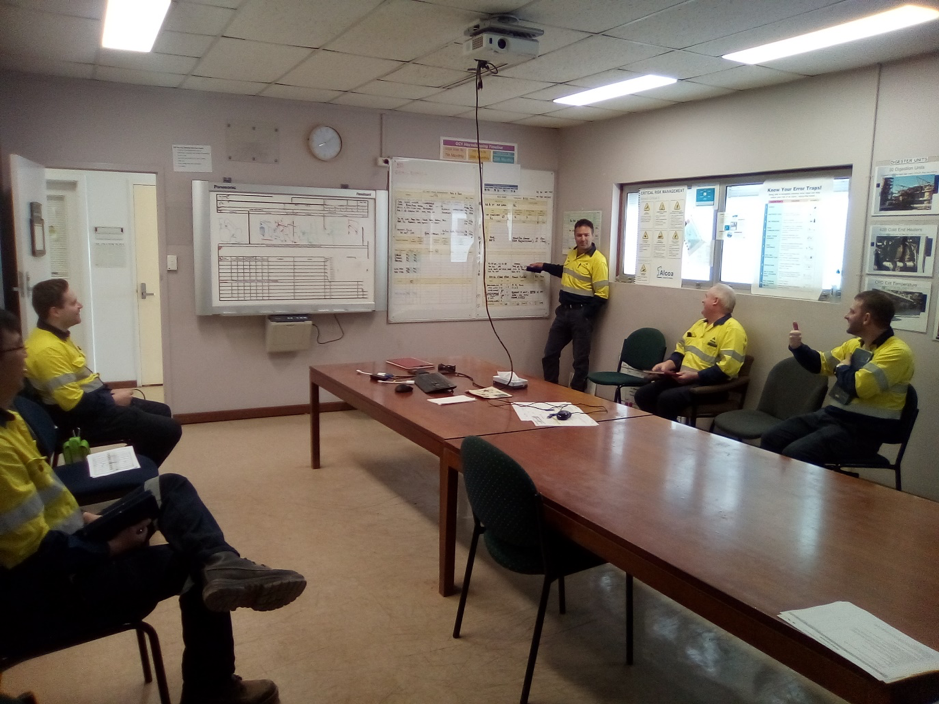 Fig. 2. Operation Centre Daily DVM Meeting
Following the first meeting, there are a hierarchy of additional meetings at the group, area and overall refinery level. These each have their own daily boards with different sets of information. Team leaders from previous meetings, bring written notes on their teams' priorities and actions and transcribe these onto the next board. They use these to decide the priorities at the next level up. This whole process takes a number of hours, with all of the information being manually transferred. Final decisions on priorities at each level are then communicated back to all the different teams, verbally or via email.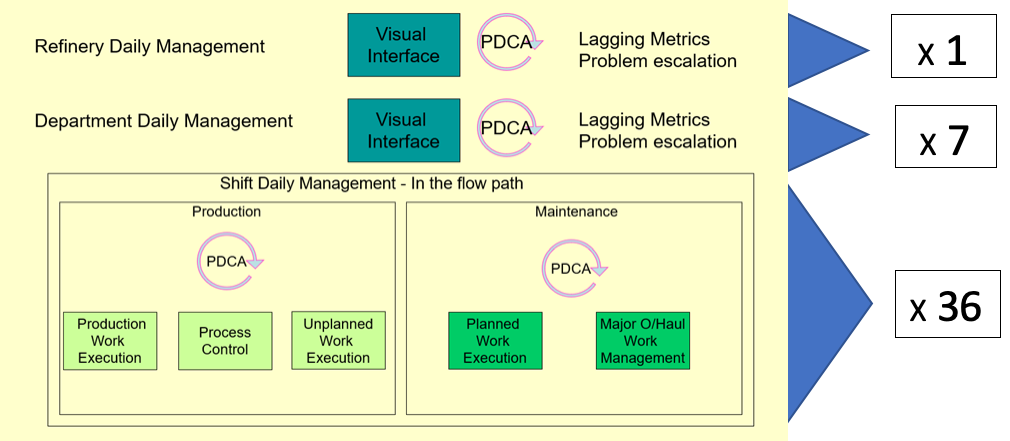 Fig. 3. This graphic demonstrates the multiple meeting levels that occur with the DVM process. 36 shift level DVM meetings occur, followed by 7 departmental DVM meetings, followed by a final refinery DVM meeting. PDCA = Plan-Do-Check-Act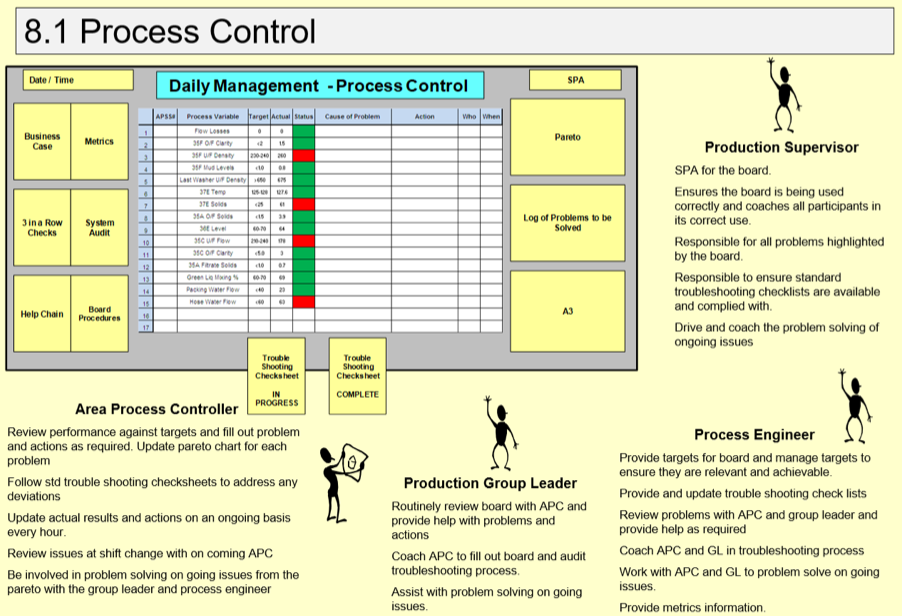 Fig.4. Demonstration of the roles that different team members play during the DVM process. This is an example of the Process Control meeting, at shift level, as shown above in Fig. 3. 
The Problem
A number of issues arise for Alcoa due to the manual nature of the DVM process:
Individuals are relied upon to update the boards manually each day before the meetings. If someone is late, or off sick, this doesn't get done and the boards will not have up-to-date information.

There is no record of the priorities or actions decided on each day

Manually transcribing actions and priorities at each meeting takes time and makes the overall processes slower.

The feedback loop on priority and action decisions is very slow. It may take up to 6 hours for the first team to get feedback on priority decisions from the final meeting.  They then only have 2 hours left in their shift and can't act on the information.
The Challenge
Alcoa is looking for a software solution that can manage the daily visual management process and address the issues above. Solutions should also address:
How Alcoa's multiple web-based applications can be displayed and integrated onto a board in real time.

That each different meeting will display different applications on their boards.

That each team needs to be able to assign and record priority tasks and actions, which then need to be interacted with at other meetings on other boards.

That consequent meeting attendees need to be able to know the priorities and tasks set in previous meetings and provide feedback and changes to these.
Considerations:
All of the applications which Alcoa source information for the DVM boards are web-based applications that are either cloud hosted or on-prem. Solutions therefore need to be compatible with HTML5. The applications are mostly developed and managed by Alcoa.

Some of the applications have API's with documentation, but not all.

Existing solutions that have been reviewed have not been suitable because they have not been able to demonstrate either:

Integration of multiple different web applications, and/or;

A way of managing the priority assigning, decision and sharing process that is integrated with the visual board system.

Alcoa don't have a bias towards cloud or on-prem but solutions should discuss latency issues and user experience for either. Redundancy is not a huge issue if static data is accessible.

The applications displayed on each board are not regularly changed. Alcoa are therefore open to options where each team board is hard-coded or an open template.

Alcoa are open to options on how the priority and action system process works in the software. This could be freeform text forms, integration with the applications to capture information directly, or another approach.

The DVM system has been designed to help people engage with problems and each other, the solution should ensure this cultural aspect isn't lost.
Hear from the Experts
Alcoa recently hosted a webinar to answer all your questions and to provide additional information on the Board to the Future challenge. Watch the recording below.
The Opportunity
Alcoa are looking to purchase software to enable digitisation of this process across their global operations, starting with a trial at 3 operations in March 2020.
Companies who participate in this challenge will have the opportunity to:
Gain Exposure within Alcoa: Your company, technology and proposed solution will be viewed by Alcoa management involved in the assessment of all submissions including the operations, digital and technology teams within Alcoa.

Connect with Alcoa Leaders: Companies who are selected and short-listed based on their proposal will be invited to a private forum hosted by Alcoa. In this forum, Alcoa management will provide further detailed background on the current operational and digital landscape for your solution. You will have the opportunity to meet the Alcoa team for a deeper engagement and discuss your proposed solution its contribution to the challenge.

Win the opportunity to trial your software with Alcoa: While we cannot make a binding commitment, the goal of this challenge is for Alcoa to identify potential technology companies as partners who can support the roll out of a solution that is "fit-for-purpose" and able to be piloted at 3 Alcoa sites across Australia and Canada.

Win Alcoa as a new customer: Following a successful pilot, the opportunity exists to scale your solution across the organisation to 27 global Alcoa sites.
Assessment
To avoid bias towards known solutions and approaches, we have not pre-defined a set of assessment criteria. However, submissions that recognise and address the problem most effectively will have a higher chance of success. Also, make sure your submission addresses its own potential shortfalls.
Points to address in your submission:
What are the unique attributes of your solution and how do they meet the needs of the challenge?

Describe the readiness of your solution/product (i.e. in development / in trial / proven product with case study).

What are your licencing options? Cost per licence or cost per user? What is the definition of a user? Someone that needs to edit or someone that just needs to view occasionally? 

Describe the stage of your company/team (i.e. individual/startup/business with established supply chain).
Submission
Submissions need to contain:
A presentation deck (PDF) describing your solution

A completed application form
You may also like to use more creative ways to explain your solution, such as videos, mockups etc. To include these, you have an option to add a link in an addition to your uploaded pitch deck
Ideally submissions should also include the following:
An outline of how the solution addresses and performs in the following areas:

Interface & User Experience: How engaging the platform is and how easy it is for a non-expert user to interact with it, with minimal training

Technical Integration: Can we display web-apps, Can we interact with APIs (e.g. REST), SQL servers and other databases

Extended Functionality: Can we create content within the board, e.g. persistent commenting against specific values

Flexibility: Flexible and robust enough to allow for business process change (e.g. viewing the data differently based on different needs, integrating with different or new systems), ideally done by Alcoa without significant work

A screenshot of the existing solutions that meet Alcoa's visualisation requirements

Implementation timeframe

Training provided for customers to be self-sustainable

Examples and screenshots of use cases / case studies
Register for your free account
Login to continue reading