Unearthed Sydney 2018
12 Oct - 14 Oct
Bringing in fresh & exciting ideas to industry for real rewards
This competition has finished.
Challenge 1
Buried Treasure: modelling concealed gold at Mt Rawdon
Challenge Statement
Can you model where ore is ejected to during the open pit mining process?
Background
As an open-pit mine is extended (cutback), loss of ore (gold bearing) material is a common issue within the mining industry. Ore is typically diluted with waste during blasting activities as material is ejected towards the deeper base of the earlier pit void. The material that builds up in the base of the pit from this process is referred to as 'rill'. As the cutback progresses, this rill material at the bottom of the pit eventually needs to be reclaimed and sent to the appropriate stockpiles. Due to a lack of spatial knowledge of where the ore is within the rill volume, will typically result in the assumed grade (gold %) of the reclaimed rill being lower, causing this potential ore material to be sent to 'waste'.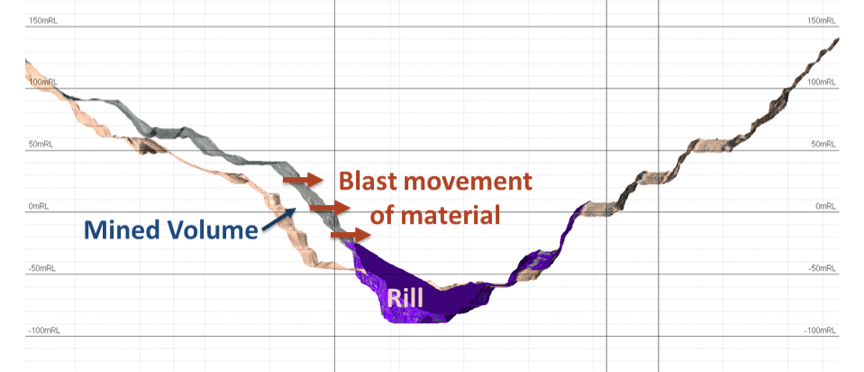 The Mt Rawdon Gold Mine is an open-pit mine that is currently completing a major cutback and has encountered significant rill development. During the FY17 and FY18 periods, the building and reclaiming of rill material became a considerable issue for the management team at site.
The Challenge
Using available site data, which is comprised of mine planning data, 3D ore models and actual mined volume movements over a 12-month period, develop a method to accurately track and model the location of the blasted ore material separately from the blasted waste that has been mixed together in the rill.
The Opportunity
Being able to better track, manage and reclaim ore that is contained within the rill will minimise revenue loss, ensure ore is reclaimed and stockpiled correctly and improve overall mining conformance to plan.
The potential value of improving ore tracking and determining its spatial location is estimated to be >$1M pa.
Data Summary
3D block model of geological characteristics and gold grades
UAV LIDAR surveys of pit (EoM surveys for a 12-month period)
Mine planning data (e.g. blast pattern plans, ore markups)
Mentors
Hans Andersen - Lead Mentor
Tim Murphy
Matthew Graham-Ellison
Register for your free account
Login to continue reading