Fast Track
15 Apr - 12 May
Improve the site access experience for mine workers
Fast Track: Improve the Site Access Experience
BHP operates numerous mining operations across Australia, managed by a committed workforce of employees and contractors who access these sites on a daily basis. BHP seeks to provide our people a positive experience on site while committing to a safe working environment at all times.
In order to achieve this, we require individuals who access the site (employees, contractors, visitors) to be compliant and competent with all relevant health, safety, environmental, training and certification requirements before being permitted to access the site.
Currently, our compliance and site access systems face a variety of inefficiencies. This often causes delays and leads to administrative work arounds and unnecessary alerts causing frustration to employees, contractors and visitors.
We see an opportunity to improve our site access process to reduce these delays and inefficiencies and overall improve the mine worker experience across all of our Australian operations.
Current Process
The process for site access does vary slightly across BHP sites in Australia, however in all cases we combine multiple data sources via multiple systems to indicate if a person should or should not be able to access site when they swipe their card at the gate.
Below we describe the process for a mine worker moving between two of our coal mines on the east coast of Australia. This covers most of the different types of system interactions that will occur on any site. 
The User Story file below (pdf) is available for download in the data files after registering for the competition.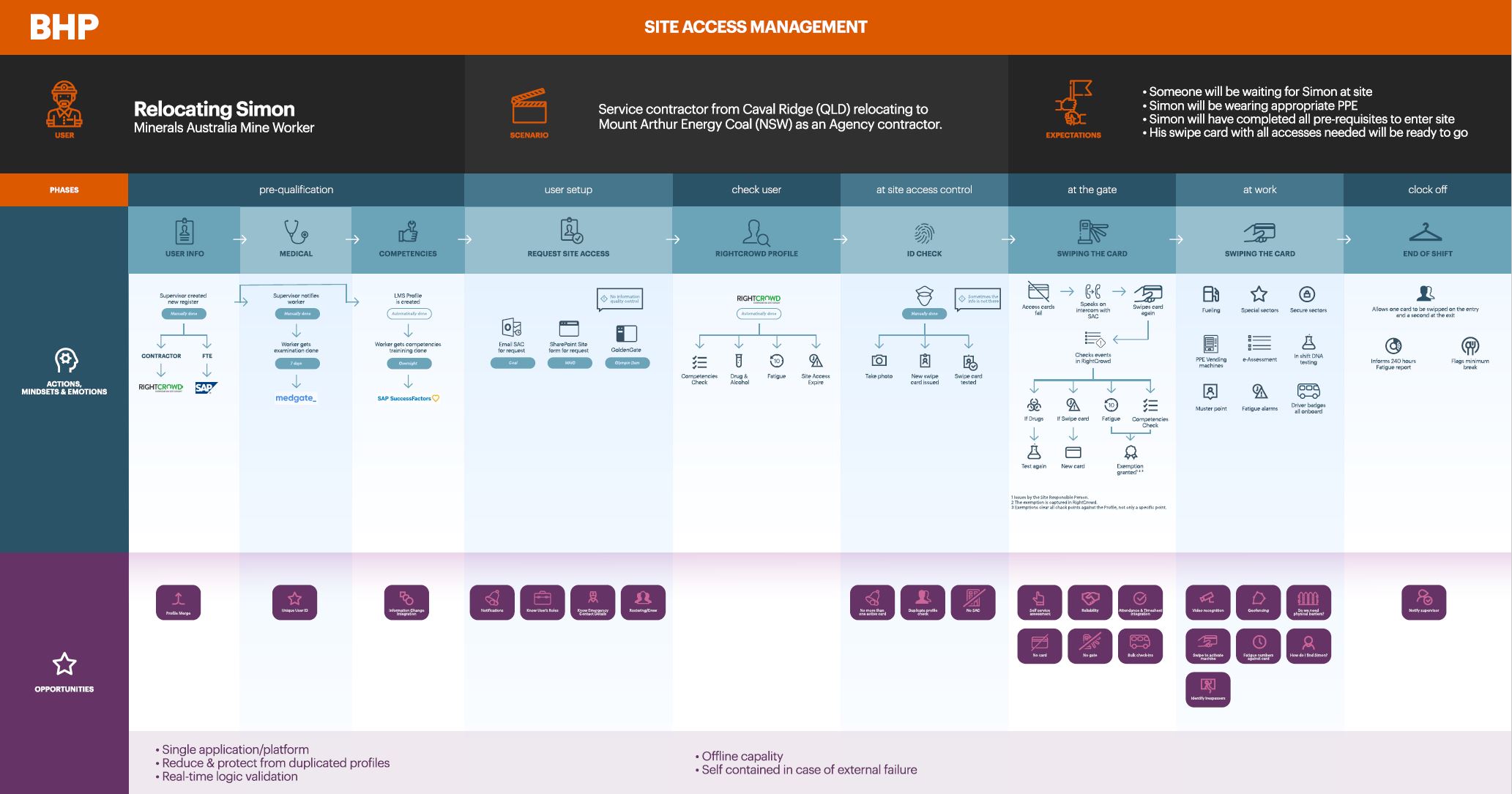 Prior to deployment to site, our employees and contractors are registered in a site access control system that communicates data to and from various other systems. Employees are assigned a unique ID swipe card that allows them access to their site through designated gates and a headcount for the amount of employees on site are calculated by the amount of unique card swipes.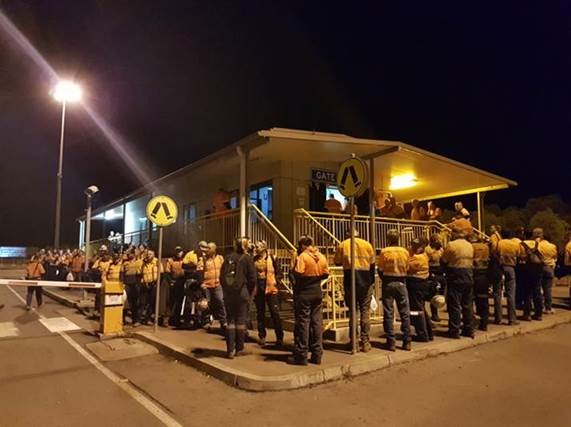 Detailed process:
New employees are registered in the Site Access Control (SAC) and provided with a unique employee ID swipe card that links to various competency criteria and checks

Once on site, the new employee enters the gate swiping his/her respective card

When an employee swipes their card with the reader, they are registered by name and headcounted from the interaction of the swipe card with the reader

If there is a problem with an access card, employees can be provided with exemptions by a site supervisor that is then manually catalogued

The system takes note of how many employees are currently on site and will be notified as they swipe their card to leave site

If an employee is thought to be on-site for more than 12 hours, the system will perform an alert that notifies the fatigue status of the employee to the relevant

Contact for this is made progressively up a hierarchy of supervisors and monitoring controls until it is determined that the individual is actively leaving the site or has in fact already left the site without having been registered as doing so

Please find the User Story map in the data files below.
Problem:
Our main problem is people becoming delayed at the site access gates at the beginning and end of their shift. At a typical site, you may have 1,500 people swapping over during a shift change. That's 100's of people needing to pass through the site access gates during the same 2 hour period. We believe these delays occur because our existing systems face a variety of difficulties that arise out of the inefficient interactions between various entities. These difficulties are a result of unoptimised integration layers between the systems that often leads to administrative work arounds. Because of this, aside from the delays, a large margin for error in headcounts and employee location is created by supervisors approving and applying exemptions to employees entering and leaving the site. This often results in unnecessary safety alerts and administrative work.
Specific problems experienced throughout the site access process are listed in the additional information section below.
The Challenge
The overarching goal is to remove the delay in people accessing sites, while ensuring their safety and compliance at all times. This will improve the experience for mine workers accessing and working on BHP sites across Australia.
The challenge is to ensure, when someone swipes a card (or gets access to site another way) the system works for them and we know who they are. Once site access has been granted, individuals people can complete their roles safely.
We are interested in holistic solutions that improve the overall experience, and we are open to the use of different technologies within the solution, such as wearables, sensors, geolocation technologies.  We also encourage solutions that address certain aspects of the problem, that may integrate with other solutions to improve the overall process.  We recognise that existing product offerings or new approaches may offer the best outcome. We currently have a trial scheduled and budgeted for H2 2019, and we are looking for teams and solutions that would be ready to get involved in this trial.
Solutions will need to be able to integrate into current enterprise and potentially local systems, particularly LMS (Learning Management System) and reporting systems.
Every site is connected to the BHP network, but there are variable levels of connectivity across each site. Solutions need to have some form of redundancy from a power and connectivity point of view.
Submissions
Submissions need to contain:
A presentation deck (PDF) describing your solution

A completed application form
You may also like to use more creative ways to explain your solution, such as videos, mockups etc. To include these, you have an option to add a link in a addition to your uploaded pitch deck.
Your submission will remain fully private and will only be visible to the competition sponsor and the Unearthed team.
Assessment
To avoid bias towards known solutions and approaches, and to encourage a wide range of submissions (i.e. existing products, UX/UI designs, process improvements, working prototypes, etc,), we have not pre-defined a set of assessment criteria. However, submissions that recognise and address the problem most effectively will have a higher chance of success. Also, make sure that your submission addresses its own potential shortfalls.
For example: If you have an existing product in the market which meets the requirements and has existing customers, you may want to demonstrate a case study, while a team proposing a custom build should focus on demonstrating their capabilities to build and enterprise-ready solution. If you are submitting an idea focusing on one part of this challenge, think about how it would integrate.
Additional Information/FAQ's
Specific problems throughout the site access process:
Employees that are beginning their shifts can become delayed at the site access point (gate), backing up onto the main highway. This is due to various inefficiencies such as data upload time (partly due to bandwidth constraints due to geographically challenged infrastructure) and that the existing systems lack integration layer configuration which causes poor data transfer outcomes that are then felt at the site access point. This time spent delayed at the site access point is considered worked hours and has a significant impact on productivity.
Site supervisors perform manual cataloguing of competency/criteria exemptions and registration of "visitor" cards if an employee's card is not functional. This causes problematic delays in processing of employees through the gate and leaves a margin for human error.
The software used to register an employee's ID card does not consolidate employees into unique IDs - allowing an employee to have multiple access cards. This poses both safety and security risks as an employee can be competent in one set of mandatory criteria on one card, but can be ineligible to enter the site on the other card
The current method is reactive instead of proactive to access issues
Headcount methods using swipe cards and turnstiles aren't completely accurate (once again due to human error). I.e. a light vehicle with 4 employees in it are required to pass their swipe card up to the driver who then scans each individual card.
Some situations in which Site Access Control interacts with a unique ID:
Entering a site access gate

Going between gates within the site (sub areas)

Fuelling a truck

PPE Vending machines

In shift DNA test

Muster point for emergency

Every 10 minutes download of names is made from specific sites. After 12 hours system will get notification indicating that an employee has not left the site.
Register for your free account
Login to continue reading