Get 2 the Core II – Revenge of the Depths
05 Nov - 05 Dec
This competition has finished.
Identify depth measurements in core images
Core photography is a rich source of geological information that contains important textural, mineralogical and geotechnical information. We have millions of core images that are currently underutilized in exploration and mining due to inconsistencies in the data, and the arduous task of transforming historical photography into the cropped and depth-registered form required. As a new generation of image analysis techniques are becoming more powerful and prevalent within exploration and mining, these large image repositories are now a rich sources of quantitative data.
Cropping and depth registering photography is an arduous task when done completely manually. It involves defining each individual row of core and then assigning to and from depth and accounting for core loss. This is a follow up competition to Get 2 The Core, which successfully provided an automated solution for cropping rows of core. This next challenge seeks to automate the identification of depth measurements within an image to expedite the depth registration process. As broader topic, this challenge aims to test/develop capability in text recognition of hand-written alphabetical and numerical information in photos. If successful, it could have a wide range of applications across Newcrest's exploration and mining businesses.
User Story
Currently, when processing the photography of a drill hole, a user will manually enter in the Hole ID, initial tray number and initial top and bottom tray depths of the first image. Most of the metadata for all subsequent core photos are derived from this information from the first image.
Hole ID is carried through all subsequent photos; tray number incrementally increases for subsequent photos; initial tray depth is taken from the previous photo's bottom tray depth; and the user has to manually enter the bottom tray depth for every subsequent photo – which is currently the limiting step to automating this process
Additionally, only the top and bottom tray depths are used to depth register a cropped core photo, which means we are losing valuable information contained in the images. Automated recognition of internal depth measurements within a tray could help to optimize visualisation of drill core down-hole, as well as help to identify and calculate areas of poor recovery.
The Opportunity
The prize money available in this competition is only one part of the broader opportunity. Newcrest aims to establish ongoing partnerships and work with the top team(s) and innovator(s) identified in this competition.There is an opportunity to directly engage with Newcrest and further develop your algorithm into an application that delivers against the overall goal of automatically cropping and depth registering existing core images. 
The Challenge
The challenge is to provide a solution that can correctly identify recorded depths within a core photograph. Critically, this solution needs to be able to perform on inconsistent photography where:
Top and bottom tray depths can be recorded and printed along the bottom of an image;

Top and bottom tray depths can be written or printed on boards above the core tray;

Top and bottom tray depths can be written along the top of a core tray;

Top and bottom tray depths can be written along the top and bottom respectively of a core tray;

Internal depths can be written on the core tray, wooden blocks or metal tags located within the tray; and

Internal depths can be written on the core.
A detailed description of how the depth measurements are to be extracted and how the submissions are scored will be made available shortly.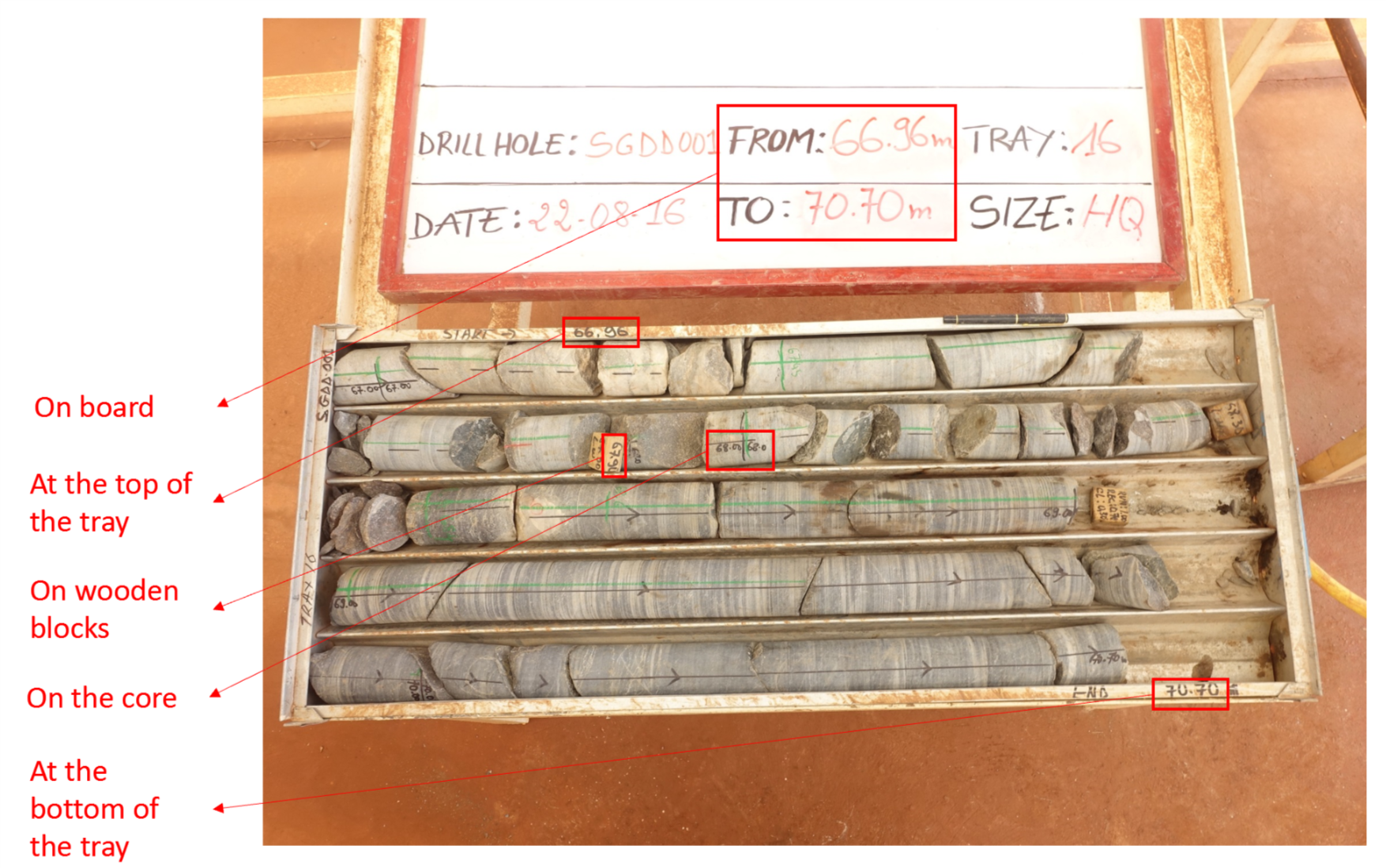 Questions and ongoing support
Participants registered for the competition will have access to a forum, where the competition can be discussed in detail and questions will be answered by subject matter experts. 
Register for your free account
Login to continue reading