Awake and Alert
30 Jan - 13 Mar
Improving fatigue management
This competition has finished.
Improving Fatigue Management
Newcrest is looking for solutions and approaches that help avoid, manage and mitigate the effects of fatigue. Fatigue in the workplace is a major risk factor in the mining industry, as well as many other industries with extended work hours and operating in challenging environments. More than just a feeling of tiredness and drowsiness, it can reduce a person's ability to perform work safely and effectively.
Our safety target for 2020 is Zero fatalities and an industry-leading Total Recordable Injury Frequency Rate (TRIFR). To achieve this goal, we constantly strive to identify new ways to mitigate risk by utilising new solutions and learning from within and outside our industry. This competition invites all individuals, teams and organisations with a viable solution to addressing fatigue in the workplace to make a submission. Our judges will review and score each submission, assess their relevance for different parts of our operations and circulate the outcomes to the relevant stakeholders in the business.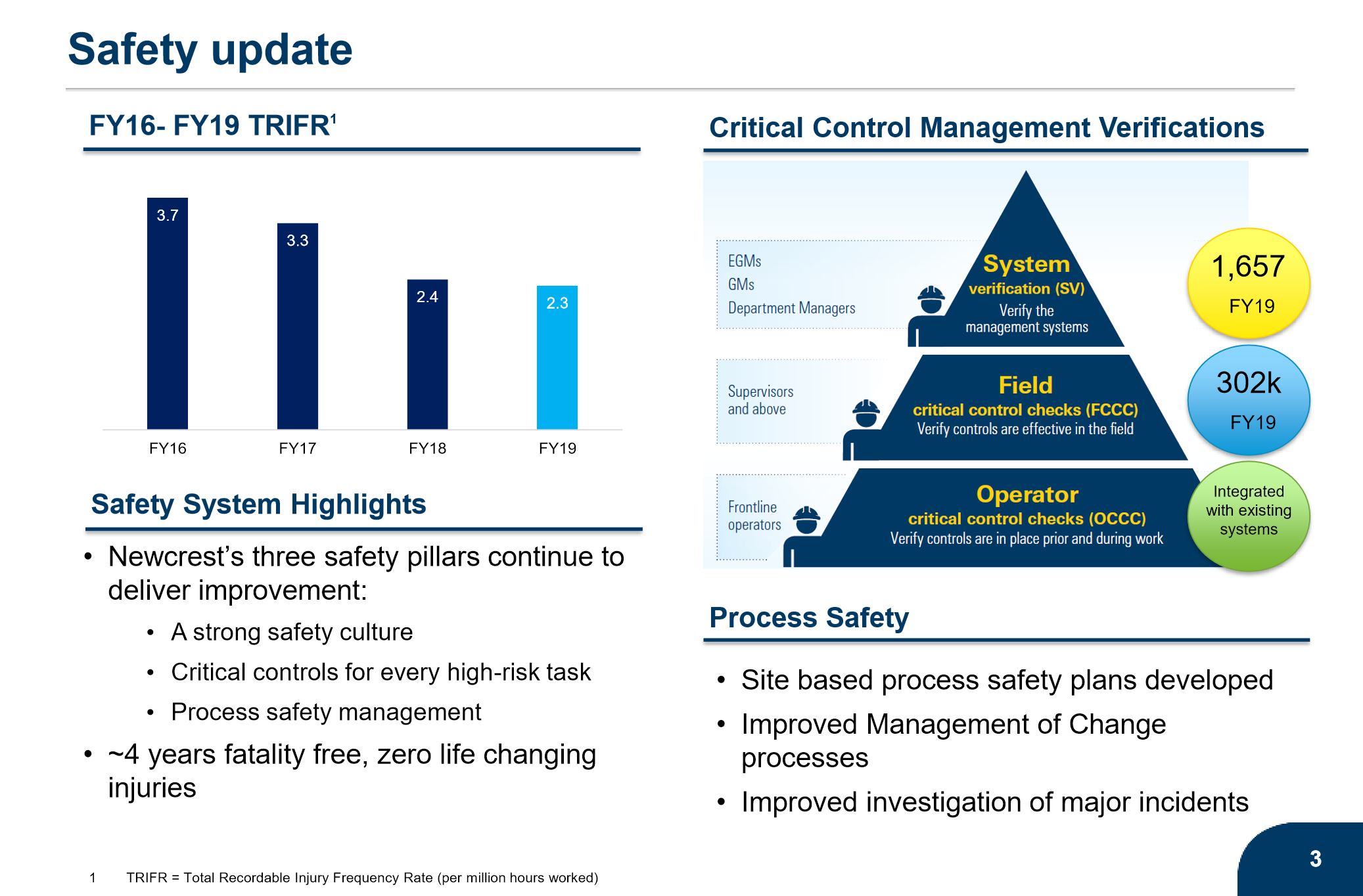 Safety update from the Sept 2019 Briefing Book: link
What is fatigue? 
Fatigue is more than feeling tired and drowsy. In a work context, fatigue is a state of mental and/or physical exhaustion which reduces a person's ability to perform work safely and effectively. 
It can occur because of prolonged mental or physical activity, sleep loss and/or disruption of the internal body clock.
Fatigue can be caused by factors which may be work-related, non-work related or a combination of both and can accumulate over time.
The documents attached at the bottom of this competition (visible only to participants registered to this competition) include further background information about fatigue and its impact in the mining industry. (definition as per Safe Work Australia, see attached files)
How is Newcrest managing fatigue?
We have fatigue management standards covering our mine sites, guidelines and risk assessments for individual tasks in place to fulfil and exceed the requirements of the regulator. In the past, we have conducted assessments of that to address fatigue and utilise engineering and administrative controls across our operations to detect and/or mitigate fatigue. In recent years, there has been an increased focus managing fatigue across the industry, including the emergence of technology-based solutions to improve the detection of fatigue-related symptoms. One of the better-known examples is eye moment detection in light and heavy vehicle to detect fatigue. 
The Challenge
Newcrest is looking for solutions and approaches that help us avoid, manage and mitigate the effects of fatigue. This challenge is wide-ranging and encourages the submission of any idea or solution that might help us improve our management of fatigue.
This might include: 
Management approaches that improve on industry standards
Software solutions that help us with avoiding, managing, mitigating or detecting fatigue
Hardware solutions fitted to a vehicle or workplace
Wearables
Others
Your solution could improve how employees sleep better at home and arrive on-site less fatigued, or adjust better to the temperature difference. How fatigue is predicted and therefore better managed, or how we detect the effects of fatigue, such as microsleep of cognitive decline, when they occur.
Forum
The competition forum is your way to ask questions and engage with subject matter experts at Newcrest. It is available in the page menu to participants in the competition only.
Submissions
Submissions need to contain as a minimum:
One image (as a hero image for your submission)
Either max 5-minute video explaining your submission (quality of your solution is more important than the quality of your video)
OR A presentation deck (PDF) describing your solution
Note: The video can be submitted publically (visible to everyone on the Unearthed platform) or privately via a link (visible only to Unearthed and Newcrest judges). 
As part of the submission process, we will ask the following questions in addition to the above requirements: 
Please describe your solution and how it applies to Newcrest.
Please describe the readiness of your solution/technology. Is it commercially ready? What further development does it require?
What existing traction do you have for your solution in the mining and resources sector? What about other sectors?
Describe the stage and/or structure of your company (i.e. individual/startup/SME/ large business)
If you win a contract with Newcrest, what would the first 3 months look like? 
Your submission may also contain: 
Any additional information consisting of pictures, documents, detailed description.
You can choose to submit all or some of your submission publically, which makes the content available to all registered users on our platform and allows other interested parties to find it. You can also choose to upload some of your content privately, which makes it available to the competition sponsor only. 
Scoring
We will assess your submission based on the following criteria: 
Potential for improvement
Solution / Product fit and readiness
Business / Company readiness
The three scores will be weighted differently, however, the final weighting will be decided once all submissions are received. 
Since we don't know the full range of submissions, we utilise this method to ensure a fair judging process that doesn't disadvantage either established suppliers nor new suppliers with very innovative solutions. Where your submission has known shortfalls, we encourage you to demonstrate how they could be addressed. 
For example: If you have an existing product in the market with local support and existing customers, you may want to demonstrate a case study, while a team proposing a custom build should focus on demonstrating their capabilities to build an enterprise-ready solution. If you are submitting an idea focusing on one part of this challenge, think about how it would integrate with other products.
Register for your free account
Login to continue reading