Lift Me Up
25 Jul - 04 Sep
Improving Safety for Forklift Operations
This competition has finished.
Improving Safety for Forklift Operations
With over 75,000+ product lines of Cat parts stocked across our extensive branch network and a 24/7 online ordering facility, WesTrac's distribution warehouses are continuously operating to supply parts when and where needed. One of the critical components in this complex system are the many forklifts operating in the warehouses.
Please note there is additional information available in the forum, as well as files available for download at the bottom of this page. Both sections are only visible to registered participants in this competition.
Background
Incidents involving forklifts (FLTs) impacting support beams on shelving units during loading and unloading of parts and pallets is a risk that WesTrac would like to eliminate from their operations. This extends to the FLT back rest impacting support beams as a result of parts or storage units not being placed appropriately on racking. This can result in injury to operators and/or damage to parts and other assets. 
Below are pictures showing examples of incidents of re-enactments and incident reports are available for download to all registered participants at the bottom of the page.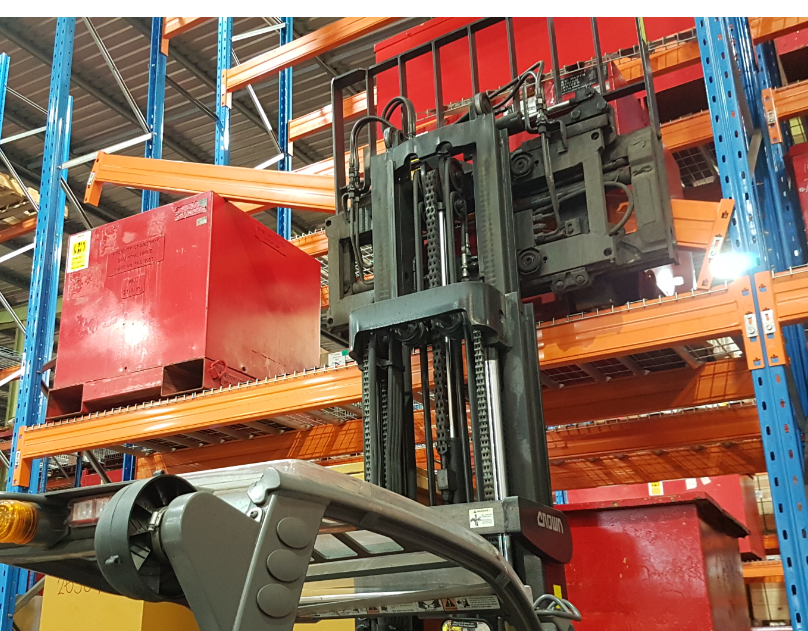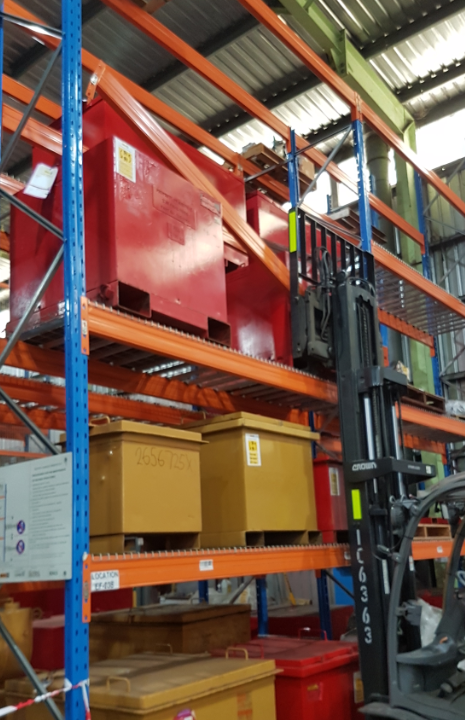 All forklift operators hold a high-risk license issued by the state regulator. This qualifies them to operate a forklift (FLT). This license is issued at the time of assessment, similar to a driving license.
Whilst the license deems operators competent to operate the FLT, lifting, placing and unloading items on warehouse shelving requires careful judgement and skill. This is due to the varying positions and shapes of the load.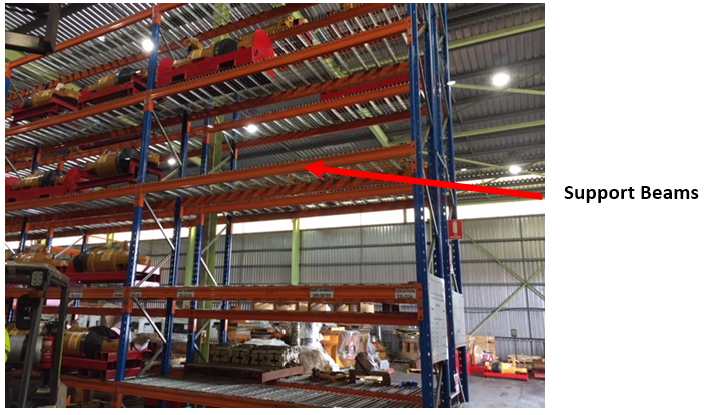 Forklifts operate in a variety of environments. These conditions range from undercover in a warehouse to being exposed to the elements. The location, configuration of shelving, and the operating conditions can vary greatly between warehouses and branches, but the components that make up the shelving system are installed to Australian Standard AS 4084.
The Challenge
We are seeking participants to identify solutions that help to eliminate or mitigate the risks listed above. We are opening this competition to a broad range of submissions and would like to deploy a solution as soon as possible. It is important to note that in addition to most of the FLTs being leased, there is a requirement to obtain engineering approval from the suppliers/manufacturers of the FLTs for any modifications made.
A possible solution could be the installation of sensors on the tines (forks) of the FLTs or the FLT back rest, as this can eliminate the need for guesswork and prevent injury in addition to damage to equipment and parts.


Any solution is likely to serve multiple purposes:
We are focused on providing a safe workplace and are always looking for solutions to assist team members in conducting their work safely. 
We are exploring opportunities to implement failsafe devices on the FLTs as an alert mechanism when to raise the attention of the operator before he or she connects with a support beam. 
Additionally, we see an opportunity to include monitoring and/or controlling functions which will allow us to identify safe and unsafe behaviour and therefore further promote training opportunities.
What does success look like?
Eliminate the instances of dropped objects, reducing risk to personnel and damage to property.
Operators feeling confident that failsafe devices on FLTs give them greater control to counter errors in judgements.
Eliminate the need to invest in repairs to shelving. This will reduce inefficiencies and optimize productivity.

Why is this a difficult? What are the main barriers?
Lack of options in relation to off the shelf products that meet our requirements and those of our suppliers.
FLTs are leased equipment. Any add-ons mounted on FLTs will require engineering approval from those suppliers.

Submissions
Submissions need to contain as a minimum:
Max 5-minute video explaining your submission (quality of your solution is more important than the quality of your video)
One image (as a hero image for your submission
Note: The video can be submitted publicly (visible to everyone on the Unearthed platform) or privately via a link (visible only to Unearthed and Newcrest judges)

IMPORTANT: Please address the following points as part of your video submission:
What are the unique attributes of your solution and how do they meet the needs of the challenge?
Describe the readiness of your solution/product. (i.e. in development / in trial / proven product with case study)
Describe the stage of your company/team (i.e. individual/startup/ business with established supply chain)
If you win a contract with WesTrac, what could the first 3 months look like? I.e. Are you looking for co-development or deployment of a solution?

Your submission may also contain:
Any additional information consisting of pictures, documents, detailed description.
You can choose to submit all or some of your submission publicly, which makes the content available to all registered users on our platform and allows other interested parties to find it. You can also choose to upload some of your content privately, which makes it available to the competition sponsor only.
 
Judging Criteria
Please read this part carefully and make sure your submission contains information that allows us to judge against the following criteria. Please let us know if your submission is a customised prototype or an existing of the shelf solution. Also, please let us know how you would classify your organisation in regards to maturity. Are you an agile, early-stage startup looking for co-development and testing or a mature organisation   
We will score your submission based on the following criteria:
Challenge Fit
Solution / Product readiness
Team / Organisational stage
Human factor (Effectively asking the judges: "How much do you like this?" This allows judges to leverage their experience and assess some of the intangibles that may be left out in the above criteria.)
The three scores will be weighted differently, however, the weighting will be decided once all submissions are received.
Since we don't know the full range of submissions, we utilise this method to ensure a fair judging process that doesn't disadvantage either established suppliers nor new suppliers with innovative solutions. Where your submission has known shortfalls, we encourage you to demonstrate how they could be addressed.
For example: If you have an existing product in the market which meets the requirements and has existing customers, you may want to demonstrate a case study, while a team proposing a custom build should focus on demonstrating their capabilities to build an enterprise-ready solution. If you are submitting an idea focusing on one part of this challenge, think about how it would integrate with other products.
NEW: Connector Prize
For the first time in an Unearthed competition, we are offering a Connector Prize in recognition of the broad knowledge base in our community. We recognise that the deep technical and operational experience of many of the Unearthed community members is highly valuable to a competition like this, but that making a full submission isn't always possible or feasable. To give you an opportunity to leverage your knowledge of suitable technologies, suppliers and products we invite you to make a Connector Prize submission for a chance to win $1,000. To participate, simply send an email to [email protected] with the following:
Subject: "Lift me up - Your Name - submission #" (include your name and the number of your submission)
Contact details for the company / product / person (website & email, direct contact if available)
Brief description of why it is suitable for the challenge

The following criteria apply:
Up to a maximum of 3 submissions per person
If multiple participants submit the same company / product / person, the earlier submission counts
We encourage early Connector submissions as we will reach out to the relevant parties and encourage them to participate in this competition. The Connector prize will be awarded by the judges based on the relevance to this competition, with a preference for a mature solution that can be implemented easily and cost-efficiently. The winner will be announced together with the other prizes.
Good luck from the Unearthed team.
Register for your free account
Login to continue reading