Startups Unearthed Americas
09 Aug - 03 Oct
Want to raise the profile of your startup in the global mining sector?
Pitch your startup to mining industry leaders at Future of Mining Americas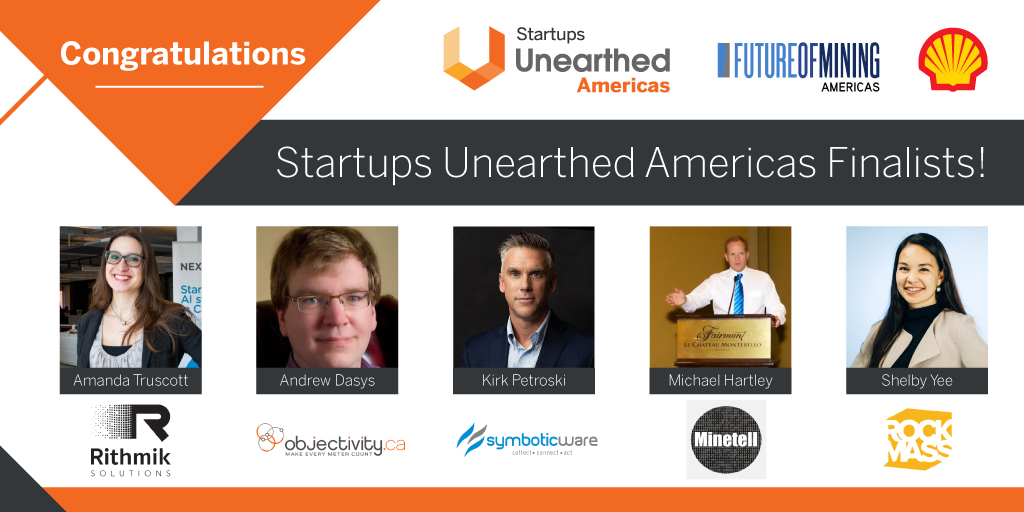 Unearthed and Aspermont have partnered to offer five startups the opportunity to raise their profile with global mining leaders at Startups Unearthed Americas. The top five startups will participate as finalists pitching to a packed audience of industry leaders on Monday 21 October 2019 at the Future of Mining Americas conference in Denver, Colorado and have access to the Startup Showcase lounge, Powered by Shell Lubricants.
Applications are open to any startup across North, Central or South America with a technology that has the potential to deliver disruptive or significant impact to the mining sector across the following key themes: 
Asset Management

Automation/Robotics

Energy efficiency (Industrial)

Environmental/Rehabilitation

Renewables (Industrial)

Safety Technologies
Don't worry if your startup has yet to implement its tech in a mining environment. If your solution has potential to make a significant impact in mining, then we want to hear from you. Find out more and apply before 3 October 2019.
Criteria:
Company should be less than 7 years old (startup or scale-up). Possible exception for new mining spin-out of established company

Company must be headquartered in North, Central or South America

Solution, technology or offering that is making (or has the potential to make) a significant impact in the mining sector
Opportunity:
Pitch in front of leading mining industry executives at Future of Mining Americas conference in Denver on Monday 21 October

Winner will be announced in front of live audience of leading mining industry professionals

Winner will be recognized as Startups Unearthed Americas Winner for 2019

Finalists will be based in the Startup Showcase Lounge, powered by Shell

Recognition and exposure for all five finalists through Unearthed, Future of Mining and Aspermont media channels to the broader mining industry
Apply here before 3 October 2019.
Register for your free account
Login to continue reading