Predicting zinc recovery at McArthur River Mine
Glencore's McArthur River Mine (MRM) is a world-class zinc-lead mine with a long future ahead of it. Operating since 1995, MRM is one of the world's largest zinc resources and a key operation in Glencore's global portfolio. MRM produces zinc, lead and silver from our open cut mine, which is then processed and stored onsite before being transported to Bing Bong Loading Facility and shipped to our customers all over the world. 
Conventional crushing / grinding and flotation processes produce three products; a bulk zinc-lead concentrate, zinc concentrate and lead concentrate. The main refinement steps are the rougher and cleaner, during which copper sulphate reagent is added to the flotation process as an activator to promote flotation separation of the zinc bearing mineral, sphalerite (zinc sulphide) from the ground ore. Xanthate reagent is also added as a collector in the selective flotation of galena (lead sulfide) to separate it from the sphalerite.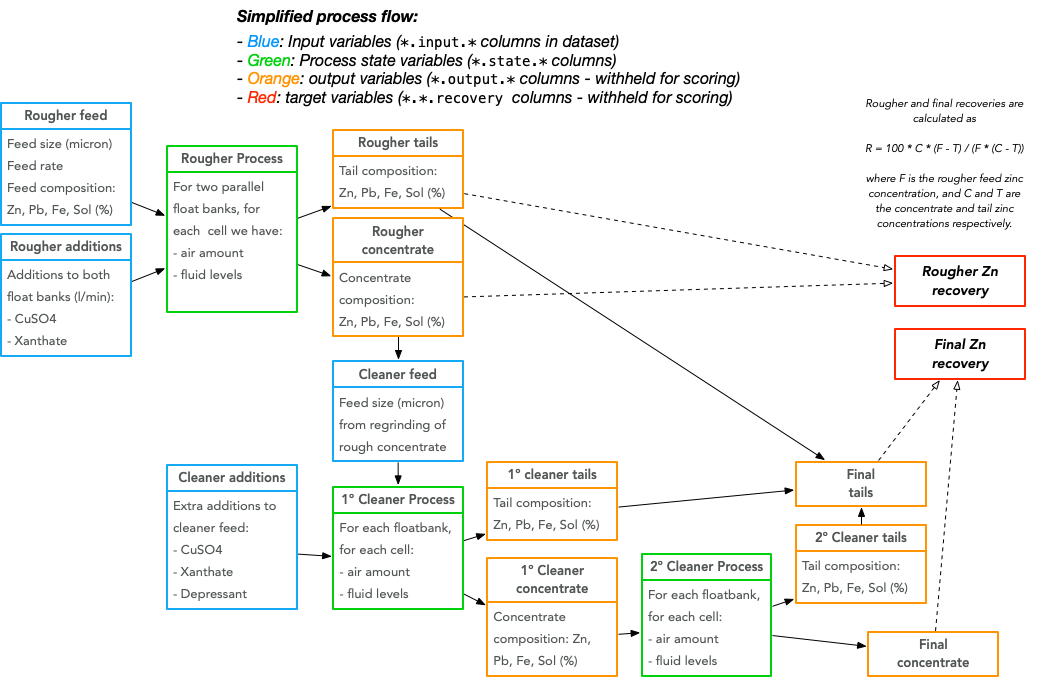 The Challenge
Glencore's aim is to run the processing plant as efficiently and stable (stability enhances metal recovery) as possible, with the most cost-effective reagent addition rates. This competition is the first step toward building an optimisation algorithm that can help us improve the process.
As part of this competition, we ask you to build a model to accurately predict the rougher zinc recovery and the final zinc recovery for each hourly interval in the data set. This prediction will be compared with the actual recovery as recorded by our continuous OSA monitoring system. Through our competition platform, you can upload your predictions and get a live score within minutes, comparing you with other participants. 
The Opportunity
The prize money available in this competition is only one part of the opportunity. Glencore aims to identify the top teams and innovators to further work on the implementation of an optimisation algorithm. 
Questions
Glencore's subject matter experts will be available to answer your questions through our forum (visible to participants only).
Public and Private Leaderboard Scoring
The score on the Public Leaderboard is calculated from the concentrator and final recovery outputs of the months Sept - Nov of 2016 and 2017.
The score on the Private Leaderboard is calculated from the concentrator and final recovery outputs of the month December of 2016 and 2017.
We're taking a weighted MASE approach where the rougher error is worth 25% and the final error is worth 75%. We wanted to value both predictions in the overall score but we care about final recovery the most. 
We're also only evaluating the score for periods where we have at least 3 hours of output data. You should still provide a value in your prediction but we will skip it if the measured data is missing. More details in this forum post. 
Register for your free account
Login to continue reading