Reduce the impact of rock bridges at our Telfer crusher
At our Telfer mine site in Western Australia, a top priority is to keep operations going without major interruptions. After planned maintenance, rock bridges are the single biggest issue preventing more ore moving through the crushers. For one single site like Telfer, the accumulated losses due to rock bridges can regularly surpass $10m per annum. 
What is a rock bridge?
A rock bridge is when rocks form a "bridge" over the crusher, preventing further rocks from falling in. These bridges are generally due to two reasons:
Oversize material – rocks that are physically too big for the crusher aperture. With a target top size of 1.2m, anything bigger than the spider cap is considered oversize.

"Jigsawing" – the rocks basically lock together and form a bridge. They are not oversize. These jigsaws usually start by building up on the "spider arms". This build up can be quick or very gradual, sometimes taking a full shift (12hours) to fully bridge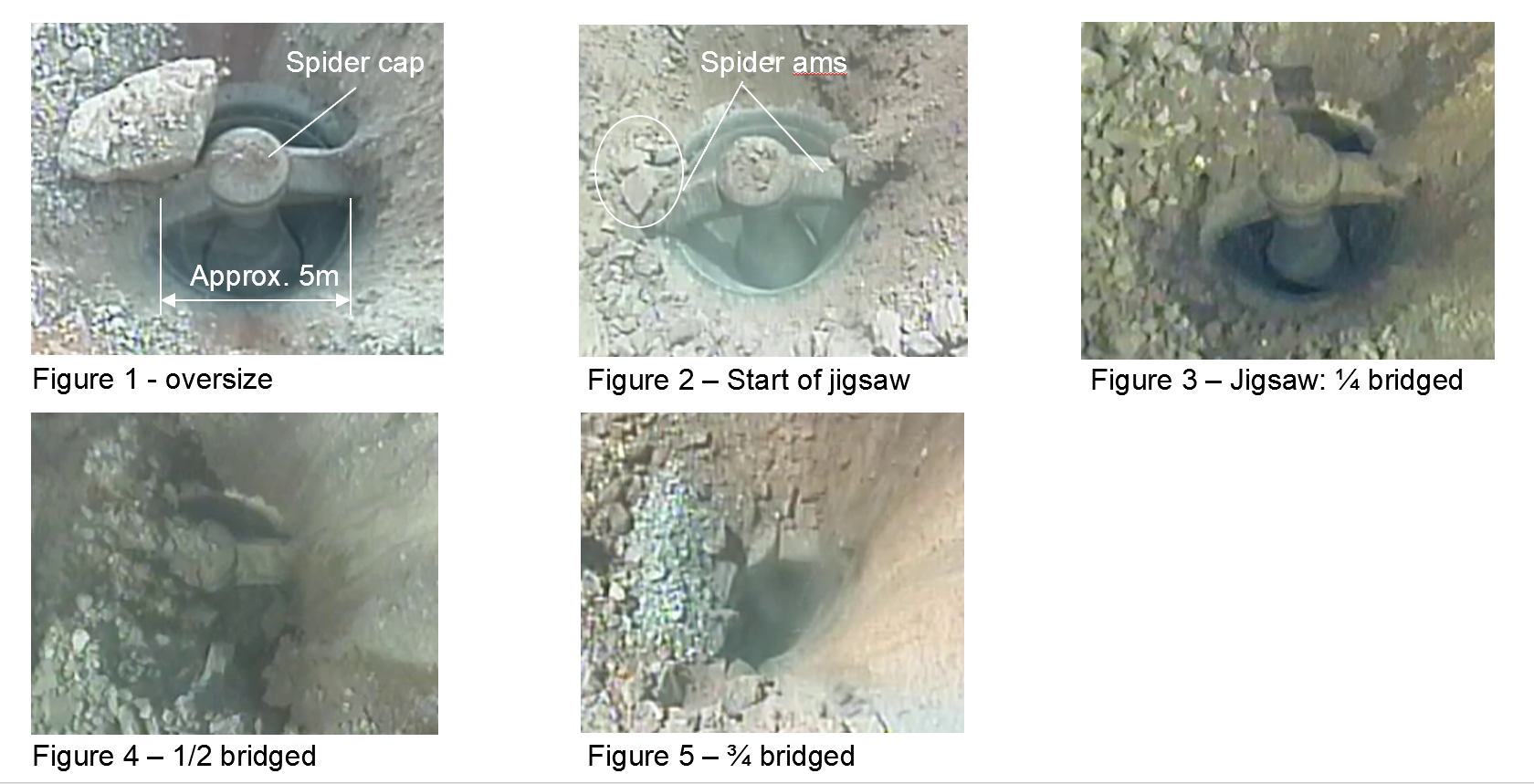 How do we currently deal with rock bridges?
Once the crusher is bridged, the process is as follows:
Dispatch stops all trucks from delivering dirt to the crushers.
Crusher control turns on the red light to ensure trucks are aware not to tip.
One of two 30t excavators is mobilised to the crusher. 
The operator will then either: 
Remove the oversize rock, or try to force it through the crusher
Give the jigsaw a "tap" where everything will just fall through.
The Challenge
This challenge is an open invite to propose feasible solutions, which may reduce the time lost due to rock bridges. There is no limitation on the approach taken, as long as your solution can deliver against a set of criteria, which the judging panel will assess against. Solutions may tackle the problem through elimination, prevention, prediction, an improvement in response time after the occurrence or any other means. 
Our aim is to identify the top solutions and engage with the right team(s) to implement a solution on site.
The prize money is a reward for winning the competition and any further work will be agreed on directly between Newcrest and the team.
Solutions will be judged on various factors:
The likely impact or efficacy in reducing the problem
The capital expenditure required
The ongoing operational expenditure required
Lead time
Innovation
Already proven elsewhere
Required crusher downtime (if any) required for implementation
Check the Rules section for the weighting of these criteria 
Register for your free account
Login to continue reading