Unearthed Perth 2018
13 Apr - 15 Apr
From Idea to Prototype on Resource Challenges in just a Weekend
This competition has finished.
Challenge 1 - Refinery
Smooth Operator - preventing shutdowns from solid scale build up in pipes
Lead Mentor: Tom Koprowicz, Production Superintendent 
Challenge Description
At the Nickel West Kwinana Refinery chemical reactions happen in the heat exchangers, tanks and pipework. Over time these reactions cause solid build-up which clogs the system and eventually requires shutdown to clean everything out. 
The Copper Boil Circuit at Kwinana serves the dual purpose of reducing ammonia content and removing copper from the nickel containing liquor to enable the next stage of the process to occur.
A critical issue in the copper boil process is the formation of nickel and copper sulphide scale in the reboiler vessel. This scale builds up over a 6 month period to the point where the circuit can no longer be operated effectively and it must be shut down to hydroblast clean. This requires the whole refinery to be shut down at the same time and therefore represents a large operating cost and production impact.
User Story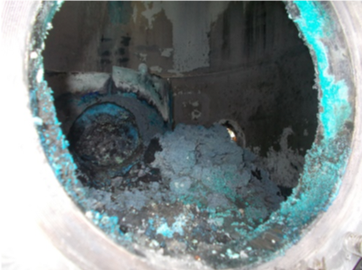 The refinery has been operating for approximately 45 years and the scale formation has continued to be an issue during this time. The refinery's inability to measure, control or eliminate this scale build up results in, on average, 1 in 3 shutdowns being unplanned due to scale build-up. The last unplanned shutdown was in August 2017.
A number of industry experts have been engaged to assist with the problem but no solution has been found. 
The copper boil process takes nickel, copper and amsul (ammonium sulphate) containing liquor and adds heat via steam injection to evaporate ammonia, adds sulphur to assist with copper precipitation, then adds acid to covert the remaining ammonia to amsul and precipitate copper. It is the addition of the acid which is believed to cause the scale formation.
Impact and Value
Unplanned shutdowns cost approximately $1M in operating cost, and approximately 1000 Nickel tonnes of production.
Additional Questions
Is there a way to measure scale build up in order to  indicate when a shutdown is required with at least 2 months notice?

Can the vessel or process be re-designed in order to prevent scale formation?
Register for your free account
Login to continue reading