5 mining technology businesses to watch closer in 2023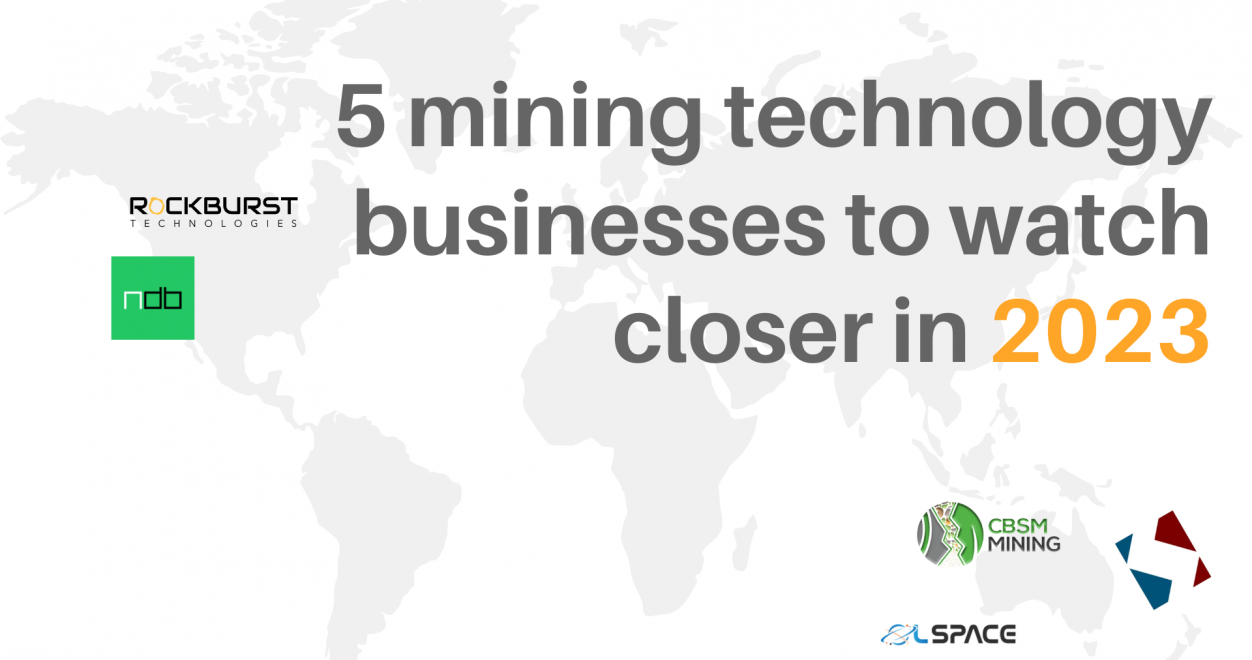 The South Australian critical minerals ecosystem is constantly evolving, with new technologies and ideas are needed to keep up with the ever-changing demands of the mining industry. Recently, the Thinking Critical South Australia challenge in collaboration with the Department for Energy and Mining, South Australia, announced its five winners, each receiving a share of the $250,000 prize pool and valuable incentives from partners to help establish their businesses and ideas in the state. These companies have brought innovation to the ecosystem and are set to bring about significant benefits to the industry and environment.
The selected companies are pushing the boundaries of what's possible with sustainable and innovative solutions that could potentially revolutionize the mining industry. Not only do they bring economic benefits to South Australia, but they also have the potential to significantly reduce energy consumption and greenhouse gas emissions, making a positive impact on the environment.
By investing in and supporting these companies, South Australia is positioning itself as a leader in the critical minerals space, attracting further investment and talent to the state. The ecosystem will continue to evolve and thrive, and with these companies leading the way, the future of mining in South Australia looks bright.
NDB Inc.
First on the list is NDB Inc., a Silicon Valley-based nanotechnology company that is revolutionizing the way we think about energy storage and generation. Their Nano Diamond Battery technology converts radioactive decay energy from nuclear waste into long-lasting, reliable energy for a range of applications. As a winner of the challenge, NDB Inc. is leading the way in innovative solutions for the semiconductor, energy, and battery industries. Learn more about NDB Inc. at https://ndb.technology
Rockburst Technologies Inc.
Next is Rockburst Technologies Inc., a Vancouver-based company committed to finding innovative solutions to some of the biggest challenges facing the mining industry. Their patented Transcritical CO2 Pulverisation (tCO2) technology is a game-changing process that has the potential to significantly reduce energy and GHG emissions in the mining sector. Check out their work at https://www.rockburst.tech
QL Space
QL Space, based in Perth, is using cutting-edge technology to bring about real change in industries like defence, mining, agriculture, and the environment. They are dedicated to developing disruptive new space technology that's solving real problems. To learn more about their groundbreaking work, visit https://www.qlspace.com.au
CBSM Mining Services Pty Ltd
CBSM Mining Services Pty Ltd is leading the way in innovative solutions for the global mining, cement, and waste industries. Their patented South Australian dry and wet comminution technology has the potential to revolutionize these sectors by improving efficiency and reducing energy consumption. You can find more information on their technology at https://cbsmmining.au
Scantech International
Last but not least, Scantech International, whose innovative solutions including microwave measurement technologies, are helping to improve efficiency and productivity in the resource sector, including the cement, coal, and minerals industries. Scantech is a world-leader in the field of real-time online analysis of conveyed flows of material, including elemental composition, moisture, and particle size distribution. You can learn more about Scantech International at their website: https://www.scantech.com.au
Congratulations to all the winners of the Thinking Critical South Australia challenge. These companies represent the future of sustainable and innovative solutions in the mining industry. We look forward to seeing the impact of their work in the South Australian critical minerals ecosystem.