Brisbane's best build next gen tech for Origin and Anglo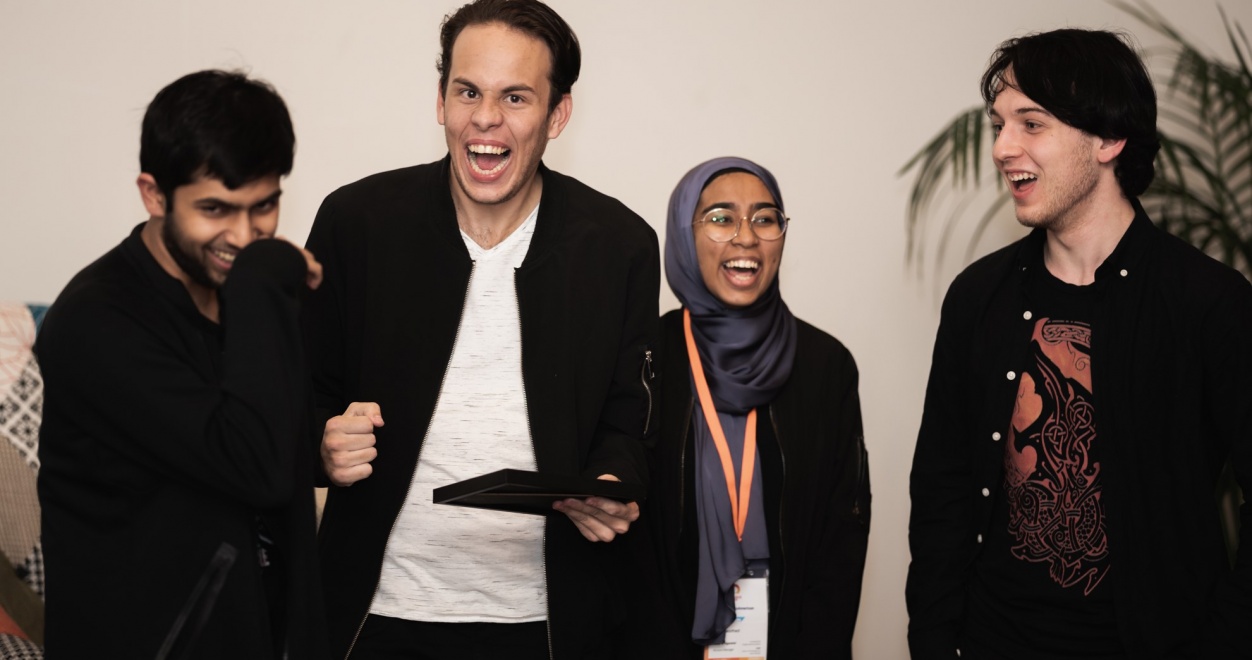 Over the weekend of 13-15 July 2018, over 80 innovators joined forces with 30+ specialist mentors and industry experts at technology startup and co-working hub Fishburners to solve one of four real Origin Energy and Anglo American operational challenges from mining, energy generation, and coal seam gas at Unearthed Brisbane.
The 54 hour open innovation event marked the fifth Unearthed hackathon in Brisbane and was a true collaboration between industry and innovators to crowd source unique and impactful solutions to tough industry challenges, including optimising the human sensor at Origin's Eraring Power Station, finding high pressure differentials at CSG wells, automatic data capture for parallel tasks in underground mining, and monitoring the status of all Anglo American open cut assets to inform and advise supervisors and dispatchers.
On opening night, Origin Energy General Manager for Strategy Execution Felicity Underhill explained how hackathons create a vital link, connecting Origin with new ideas, technologies, opportunities and ultimately innovation, which help in delivering energy to their customers and communities.
"I am not a gambler and I've taken that aversion to gambling into my career. I've used rigorous structure to analyse risk and develop strategy and a lot of thought and measured consideration has gone into all of that. About two years ago I was given the opportunity to set up an innovation department in Origin's upstream business and I have learned a lot," said Underhill.
"What I have learned most of all is how much I am in awe of people like you who are sitting in front of me tonight. You are here because you are naturally curious, you are really keen to work with and learn from others, and you back yourselves to find a better way. Effectively you are betting on yourselves. This weekend and through our work with Unearthed, that is a gamble that I'm pretty keen to take," she said.
Head of Technical at Anglo American, Dave Palmer also gave a keynote address at Unearthed Brisbane, stating that innovation is one of their core values.

"Anglo American is proud to collaborate with Unearthed and explore innovative approaches to Anglo American's real mining challenges. This hackathon will generate new ideas in automated data capture in underground mining and real-time monitoring to improve asset deployment in open cut mining. We are ready to embrace ideas that challenge our thinking, as part of our FutureSmart Mining approach to deliver a sustainable future," Palmer said.
Students and professionals from the science, engineering, business, entrepreneurial, software development and mathematics disciplines put their skills to the test and worked tirelessly over the weekend, creating insightful solutions in response to the four challenges.
18 teams pitched their technology prototypes to the esteemed judging panel and fellow innovators at the conclusion of the hackathon.
First prize was taken out by Team QUITERs, from the University of Queensland, who developed Canary, a wearable technology where users movements are being tracked and uploaded into a database server, in response to Anglo American's Catcher in the Mine challenge.
"Our Machine Learning algorithm interprets these signals and understands what the user is doing. Currently Canary can understand if the user idle or walking or squatting. With more sensors it is possible for Canary AI to understand every process that can be done in a mining environment with 100% accuracy," said team member Arda Akgur.
The team were awarded $3000, plus tech credits courtesy of Amazon Web Services for their novel solution.
DUGG won second place ($2000 + AWS credits) for their simplified virtual assistant for supervisors and dispatchers, powered by AI - a proposed solution to the Mine Maestro challenge, which involved monitoring the status of all of Anglo American's open cut assets to inform and advise supervisors and dispatchers.
"Dugg applies real-time data analysis to identify problems and provide accurate information of their cause. By correlating data, Dugg optimises onsite dispatching, allowing for quick and informed decision making," said team member Lachlan Teale (A Machine Learning Engineer at SiteSee and Business Management student at The University of Queensland).
The young innovator award ($1000 + AWS credits) went to NAVITRON, a collaboration between QUT code network's Matthew Miller, UQ Computing Society's Cameron Aavik and Mitchell McDermott (whose team won Unearthed Brisbane 2017). NAVITRON tackled the Mine Maestro challenge by creating a platform for real-time monitoring of vehicle position and road degradation data to assist with vehicle bottlenecks and road repairs.
Team Button UP won the people's choice award for their innovative Internet of Things and wearable tech solution. Button UP utilises the two-way messaging function on the personal PED devices carried by the underground coal mine workers to capture information on process tasks in a very simple manner. The current task being performed is selected by using the PED's LCD screen and joystick. For discrete tasks such as bolting, the CMW presses the button on completion of the activity. For continuous tasks such as stone dusting, the button is pressed to start and stop the activity.
Congratulations to the winners of Unearthed Brisbane 2018 and all of the dedicated innovators who participated at the event.
Opportunities for further development have already been unearthed, with Team Oh Well! being invited to present their integrated, multi-platform solution, which leverages existing Origin systems to optimise CSG production "Macka's Run" at Origin Energy HQ on Monday following the event.
The team's work was very well received by Origin executives and further meetings to investigate how their technology could be implemented will be scheduled.
Unearthed Brisbane teams also have the opportunity of fast-tracked application for the Unearthed Accelerator program, which provides selected startups seed funding and access to experienced industry mentors, amongst other training and facilities, to grow and commercialise their prototypes into products.
"The skills, funding and industry connections accelerators deliver are allowing technology startups to maximise their chances of success. We are excited by the new talent on display in Brisbane and look forward to welcoming the 2018 startups to the program later this year," said Accelerator General Manager David Camerlengo.
Unearthed would like to thank our supporters: Origin Energy, Anglo American, Amazon Web Services, SAP and Austmine, and the mentors and judges who volunteered their time to share their domain expertise, provide valuable feedback, and improve the participants' understanding of the challenges and data.
Full details on Unearthed and its global open innovation program for the resources sector can be found at: http://portal.unearthed.solutions.