Denver developers take next steps with Barrick after hackathon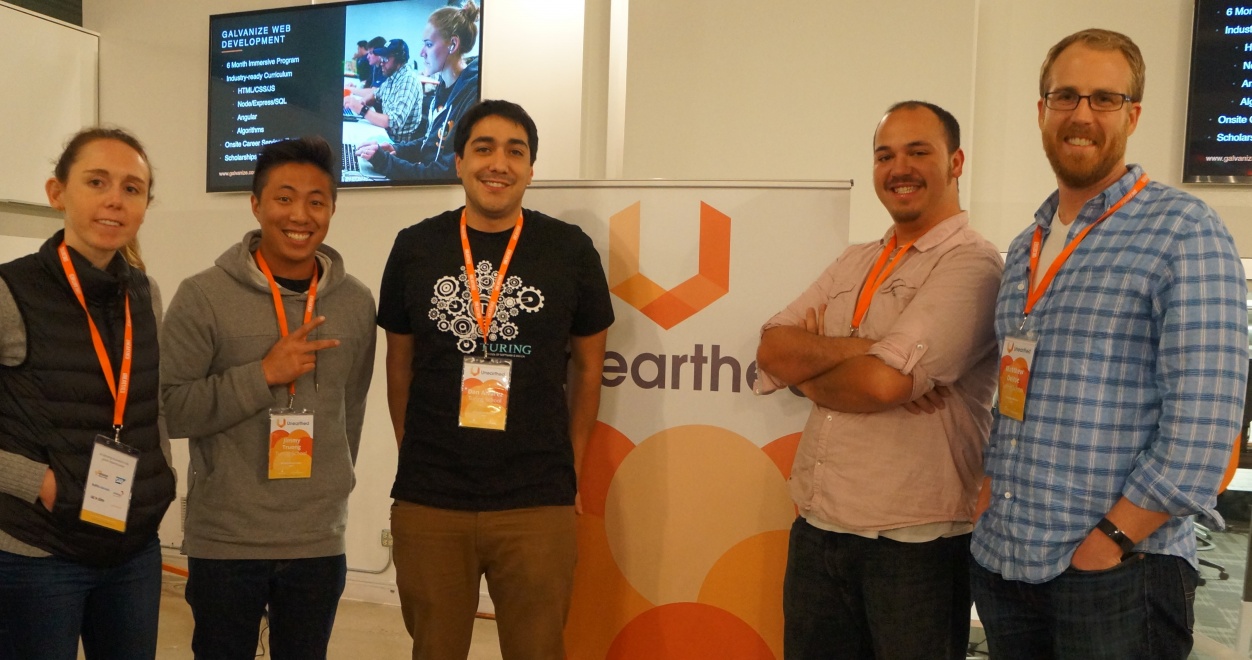 In September we returned to the US for our first resources sector hackathon in Denver, Colorado.
Over eighty talented developers, data scientists, designers and engineers gathered together from a wide variety of backgrounds at Galvanize coding school in the Golden Triangle. Students, professionals and industry stalwarts formed teams to tackle the four challenges presented by Barrick Gold.
Michael Sagapolutele, a graduating student at the Turing School of Software and Design in Denver and his team "Dan and the Backenders" chose to tackle Barrick's safety challenge at the hackathon. Their team developed a novel app called Mitig8 to enhance employee participation in a company culture centred around safety awareness.
Following the Unearthed Denver awards ceremony the team were approached by Barrick and were asked to continue development on their solution. This included a trip to Salt Lake City to present at Barrick's Workflow Optimisation Workshop (WOW) with Intelex. Barrick's safety personnel were present, including innovation leads Tyler Godoff and Nicolas Westgate.
We recently interviewed Michael to discuss his experience at the hackathon and to get an update on his team's progress.
---
Congratulations on your ongoing engagement with Barrick. When you spent time expanding on your solution after Unearthed Denver, what exactly did you do?
Firstly, we rewrote the FLRA filling app in React Native, which Dan taught himself while he was rebuilding the app. We also reconfigured our database, added more features to the supervisor portal like more data visualisation, tagging forms for follow up, notes, the ability to search historical and current FLRAs by date and worker name, and improved the user experience and iconography in small ways. We also built out a manager portal, which had data visualisation for site-wide data, performance tracking for supervisors, a search where they could filter FLRAs by supervisor as well, and the ability to add common risks and controls for certain categories of task that might be unique to their site. A good amount of time was also spent tightening up the performance of the portals and bringing down load times.
It sounds like you have custom built this revised solution for Barrick?
Yeah, it was custom built around specs that Barrick gave us.
After completing the hackathon and having an initial conversation with Barrick, what did your team do? What were the steps you all took?
After getting some sleep, we all met up to discuss how we were going to move forward and how we wanted to approach this. We all still had a commitment to our course at Turing, so balancing that obligation with continuing to develop our solution needed to be discussed upfront. We broke down the time we would need to dedicate to the Barrick project and laid out a road map to hit our objectives for the trip to Salt Lake City. We also reached out to mentors at Turing and Unearthed for advice on how to balance our time and for advice on our presentation.
Your team mate posted "blood, sweat and tears" got you to the point you are now at. Just what sort of commitment did you all put in to get you over the next hurdle?
The commitment to Turing I mentioned earlier usually boils down to about 60+ hours a week of instructional and project work time. We set strict limits on both our time dedicated to the Barrick project and to our Turing projects and stuck to those limits. It was a couple weeks of hard burn, but the short term nature made it feasible. So we had to find time outside of those hours to be able to work on the solution for Barrick. Dan in particular taught himself React Native and completely rewrote the form submission app in just 2 weeks.
Often one of the biggest challenges is understanding exactly what the client wants. How did your team get down to the specifics? What sort of arrangement did you come to with Barrick?
About a week after the hackathon ended we were able to get a list of specs from Jared Watts, Occupational Health Manager, Barrick Gold, who was our main contact. From there we sat down as a group and started to pick out everything we thought we could accomplish and was vital to a minimum viable product. Due to everyone's schedule being really busy, we didn't have much back and forth discussion with Jared. We were also in communication with Jared's colleague Taylor Dillon about details for the workshop.
Where to next Michael? Have you found this journey exciting or eye opening in terms of opportunities in the mining and resources sector?
As of right now, things are quite open in terms of possibilities and we've been discussing as a team, and with mentors, how we'll move forward from here.
This whole experience has been very eye opening in how much opportunity there is to provide tech solutions for the resources sector. None of us expected to go this far.
Thank you to Michael Sagapolutele for taking the time to share his hackathon experience with us. The Unearthed team looks forward to seeing where Dan and the Backenders go from here.
For more information about upcoming Unearthed events, visit: https://portal.unearthed.solutions/