Global crowdsourcing challenge to boost South Australia's rich critical minerals industry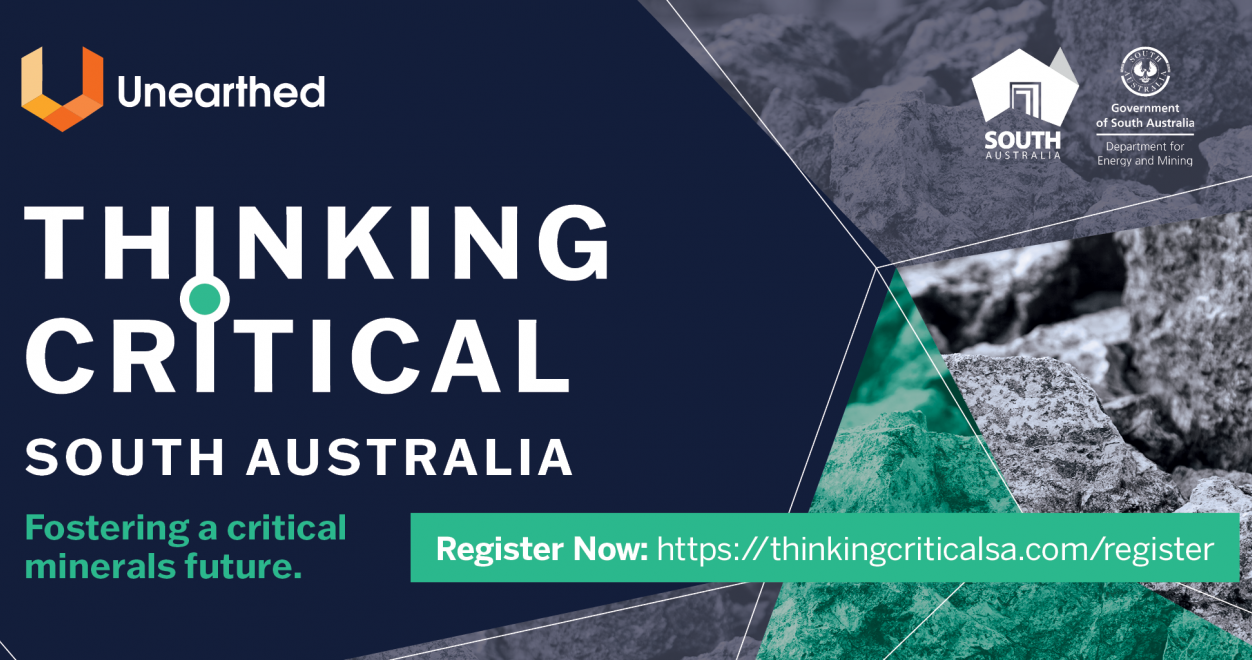 MEDIA RELEASE, November 3, 2021 – South Australia is on the cusp of a modern day 'gold rush' as the state calls upon entrepreneurs and companies from around the world to help tap its burgeoning critical minerals sector.
Run by the Government of South Australia and Unearthed, Thinking Critical South Australia is a ground-breaking global online crowdsourcing challenge aimed at fostering the growth of a world-class, critical minerals sector in South Australia.
"The Government of South Australia is investing in the future, helping to grow the state's critical minerals processing and manufacturing capabilities," said Executive Director, Mineral Resources, Department for Energy and Mining, Alex Blood.
"Thinking Critical South Australia is focused on attracting the best, most innovative proposals from individuals and businesses across the globe and supporting them to set up operations here in South Australia to contribute to this growth."
A global critical minerals hotspot, South Australia contains 65 per cent of Australia's copper, graphite and zircon as well as halloysite, cobalt, rare earths and magnesite.
The state is also home to the world's largest zircon mine at Jacinth Ambrosia and Australia's largest graphite deposit on the Eyre Peninsula.
Critical minerals are metals, non-metals and resources deemed essential to the world's economies and whose supply may be disrupted or at risk.
Used in advanced technologies from lithium-ion batteries and smartphones, to electric vehicles, renewables and space shuttles, their popularity is surging as global net zero policies and new technology advancements drive unprecedented demand.
"This investment goes beyond the mining and exploration of critical minerals; we want to support initiatives and projects that accelerate the use of critical minerals," said Ms Blood.
In establishing operations in South Australia, finalists have the opportunity to leverage world-class resources and research facilities and have access to a rich network of customers, suppliers and investors.
Thinking Critical South Australia is offering five finalists attractive incentives as well as access to a significant financial prize pool.
"The five finalists will receive high value incentives including, but not limited to, marketing and promotion, professional networking and business development," said Unearthed Innovation Systems Partner, Lizzie Brookman.
"A total prize pool of $250,000 is on offer to help kickstart business operations."
To be eligible to enter, an entrepreneur or business must be a registered, non-government business or non-for-profit organisation; are, or will be involved in the critical minerals value chain and willing to register their operations in South Australia.
Companies throughout the value chain are encouraged to enter with Thinking Critical South Australia focusing this year on proposals specifically involved in processing and manufacturing.
In addition to the incentives and prize money on offer, the winning finalists will enjoy an unparalleled lifestyle in beautiful South Australia.
The Thinking Critical South Australia Challenge is a two-round challenge commencing November 3, with the winners announced June 2022.
To register your interest, visit www.thinkingcriticalsa.com