Hackathon success launches ML and AI startup Madlytics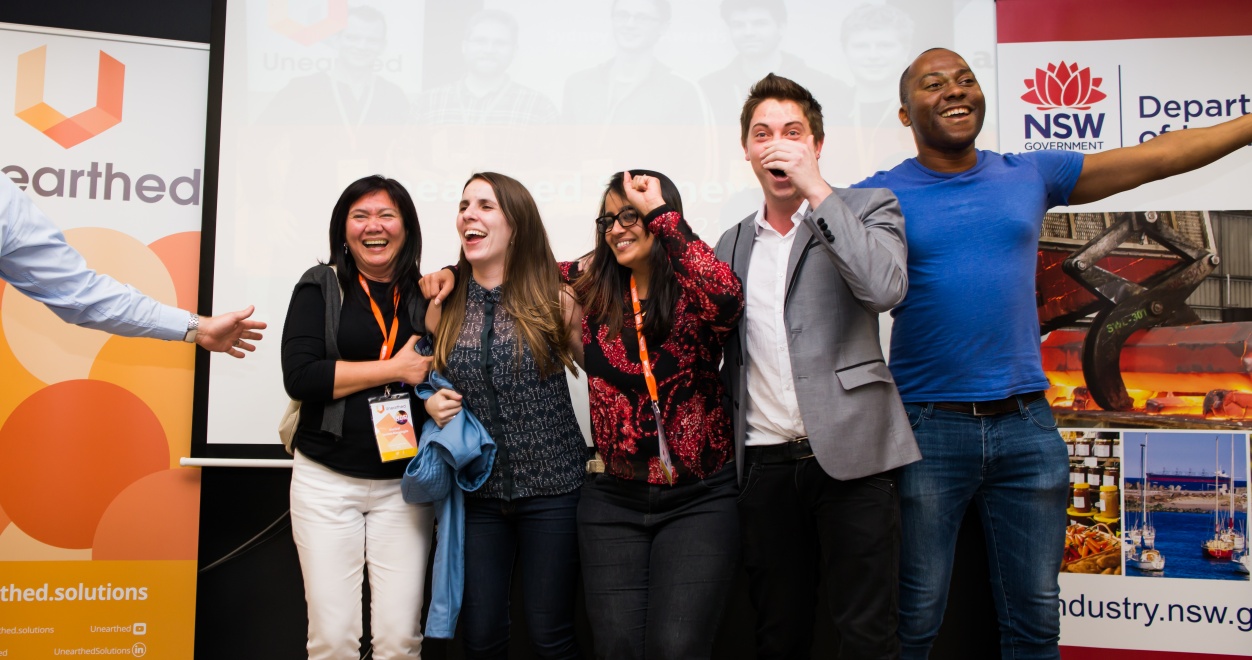 Team Perry's Fan Club took out first prize at Unearthed Sydney 2017 and second prize at Unearthed Sydney 2016 hackathons. Last year, the team of University of Technology Sydney (UTS) Alumni: Duhita Khadepau, Patricia Kavinski, Amy Soo and Alex Scriven tackled Rio Tinto's Carryback Detection challenge, which involves sticky dirt getting stuck in the back of the truck after tipping leading to productivity inefficiency. Their winning solution was a Carryback Detection Alarm solution that can save Rio's Site 2 over 700,000 tonnes of carryback material per year.
We caught up with team member Alex Scriven to talk about his team's experience coming out on top last year after working on industry challenges in a pressure-cooker environment for 54 hours, to find out his tips for hackathon success, and to discuss what he's been up to lately, including his Machine Learning and Artificial Intelligence startup Madlytics. Here's what he had to say:
Can you tell us a little bit about your company, Madlytics?
Madlytics is a company that uses Machine Learning & A.I to solve business problems. We aren't a traditional consultancy that provides just advice, we roll up our sleeves, dive in and build!
We also offer a range of ancillary services around helping build data-driven organisations, including data architecture/infrastructure, self-serve business intelligence reporting setup and ad hoc data analysis projects.
Can you tell us a little bit more about some of the machine learning and AI projects that you've worked on? What kind of problems do you see coming from different industries?
We have found ourselves working with a variety of clients from different industries but think our sweet spot is where lots of data meets a real business case and a business stakeholder with an appetite for some of these newer technologies.
Unlike some other technologies, not every outcome is known from the start so we need business leaders who are willing to come on a journey together. Therefore most of our recent projects have been with tech startups, marketplaces and eCommerce companies.
I think the unifying theme among these projects (including recommendation engines, machine learning predictive modelling for leads and sales, etc), is both the growing expectation of customers in the digital world to have a more personalised experience, and business owners wanting to become more data driven so they can stay one step ahead of the competition and focus on what matters most: building their business.
Are there any particular learnings you think that the energy and resources sector can adopt from industries that are applying machine learning and AI techniques?
I definitely think the risk appetite is something that they could work towards adopting more, but in the right way. These days it doesn't have to be a case of hiring a team of ten data scientists and engineers and spending $500,000-$1M+ on a 8-12 month project. That is the 'all or nothing', waterfall style of large IT projects.
Shaving off some of the smaller, more well-defined problems (with a clear business case) with a manageable subset of the data and undertaking some rapid proof-of-concept projects can allow for quicker wins.
Additionally, this can help getting buy-in from management and other business units and building a more informed approach to larger projects.
You have a fairly unique skill-set, having a strong background in digital marketing before moving into data science and machine learning. How has this helped your business and what do you think other startups can learn from your experience?
I think that the most valuable skill I took from my digital marketing career was the client-facing interaction in which I was constantly explaining quite technical concepts (technical SEO, Google Adwords, conversion optimisation on content funnels, etc) to business stakeholders. I think that for technical startups this is vital.
Business stakeholders are smart and driven people, but they don't care how fancy your algorithm is. They care more about how it can move the needle on their key business challenges.
You're very involved in the startup scene in Sydney, can you tell us about some exciting things taht are happening at the moment and what trends you are seeing?
The world of A.I and Machine Learning is exploding, as is blockchain. I think the challenges with both of these fields is definitely the need to remember the business use case. Often 'A.I' (which, itself, suffers from definitional issues) and blockchain finds itself being pitched, entirely unnecessarily for a solution that has not even had beautiful, robust software (and a great business team) put towards it. Sure, the technology 'can' do that cool thing, but is that really needed to solve the business problem?
I think that those who will succeed with these technologies will be the ones who are solving real business problems where these solutions are the best fit to deliver value.
At Unearthed, it's a mission of ours to showcase the opportunities in the resources sector to support more startups and companies solving problems in this space. What do you think we can do to get more startups focused on the sector?
I think that one of the biggest barriers to this industry is the informational asymmetry that exists. For those of us not in the industry, we have absolutely no idea about these deep problems they are facing, some of which may be right within the skill-sets or product offerings of these startups to solve. We just don't know what we don't know! This is where the hard work of Unearthed is really such a fantastic force in the business world.
There is absolutely no way I would have ever had the fascinating exposure I had over the last few years without Unearthed. As for the follow on beyond these 'tasters', in my view it is all about baby steps when it comes to bridging gaps in business, technology, culture etc. It is a really tough question for what that next step could be, but perhaps it is something that works towards assisting those outside to know more about the problems that these companies (and the industry) are facing. Information sessions? Open forum/workshop days? Open calls for proposed solutions through some digital 'jobs board' channel? For sure I would tune in, sign up or submit proposals for that!
You've taken out top spots at the last two Unearthed hackathons in Sydney as 'Perry's Fan Club'. What have you learnt from that process? Do you have any tips for success?
My number one takeaway is: talk to the mentors! Every year they have been absolutely wonderful people who are super knowledgeable about their domain. The briefs tend to come to this event in quite a raw format and so it is up to participants to work closely with the industry mentors to refine the brief and their findings. Validate your assumptions as often as you can, lest you might end up far down a path with a really cool model that doesn't actually solve the business problem.
---
A massive thank you to Alex for taking the time to talk to us. We wish Madlytics every success and hope to see Perry's Fan Club again at Unearthed Sydney 2018!
At Unearthed, we are passionate about supporting and promoting our talented community. Since our first hackathon in 2014, we have run 36 open innovation events that have lead to the development of over 400 novel prototype solutions in response to over 100 industry challenges that have the potential to transform the global energy and resources sector. These events see participants putting their skills to the test in an unconventional way, with the opportunity to implement their solutions with industry supporters post-event. For more information on our upcoming hackathons and online competitions, visit: https://portal.unearthed.solutions/