Komatsu engages with startups like a well-oiled machine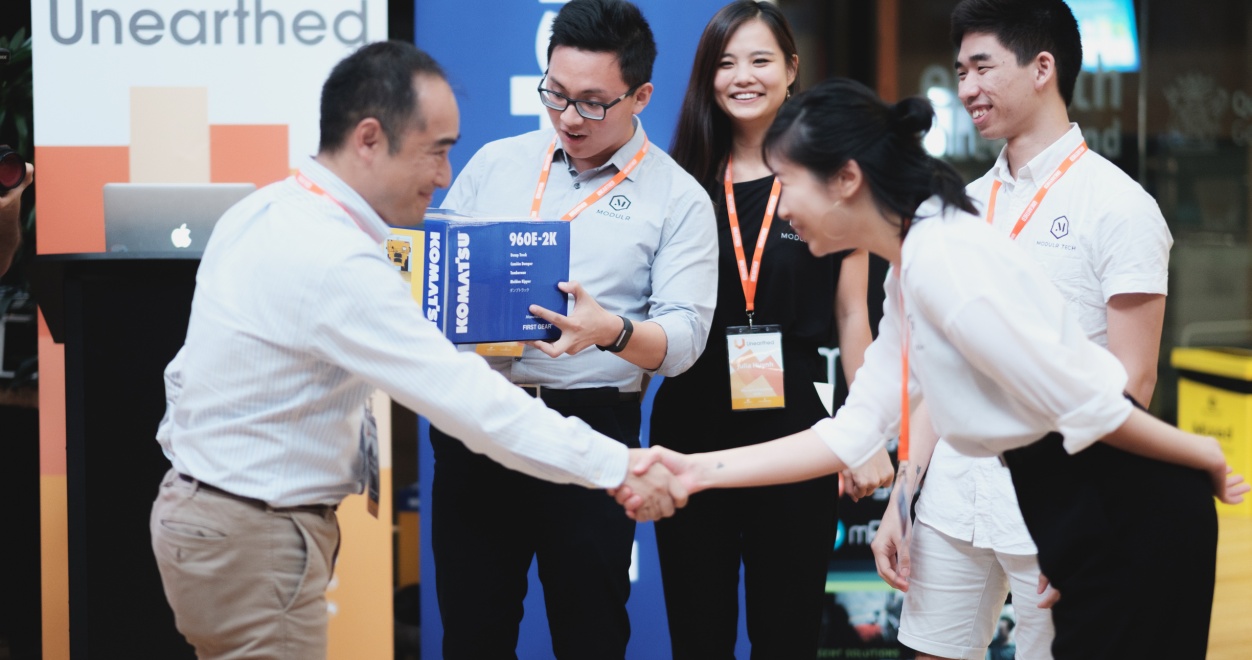 Fourteen startups comprised of over fifty innovators came together at co-working and tech hub River City Labs from 23 – 25 February 2018 to take part in a mining technology hackathon with a twist - Komatsu: Transform Mining.
On opening night, startups pitched their existing technologies to Komatsu, and then over the weekend, the entrepreneurs worked closely with Komatsu mentors and personnel from across the business, who offered deep insights into their current operations, technology gaps, implementation, integration, and future vision, with a view to finding the most accelerated path to direct collaboration.
The Japanese multinational manufacturing giant specifically chose to hold the event in the city of Brisbane, Australia's major hub for mining technology startups and the hackathon has already created significant opportunities and connections between industry and startups.
"Queensland has the talent, attitude and entrepreneurial thinking that will lead innovation in the mining sector. We continue to support enterprise and business innovation because we know it's critical to our state's growth and future," said Queensland Innovation Minister Kate Jones.
On closing night, participating startups showcased how their technology applies to one (or in one case two) of Komatsu's four major mining challenges and pitched their engagement model prototype to the esteemed judging panel.
Komatsu General Manager Ryoichi Togashi said that innovation is created by a sense of crisis as a driving force. Through hackathons with outside members who are familiar with mining sites, customers and advanced technologies, Komatsu can access results that cannot be achieved by in-house development.
"Komatsu: Transform Mining has been a very exciting experience and I was blown away by the calibre of solutions that were presented on Sunday night. We have already commenced discussions with multiple startups as to how we can collaborate to deliver these disruptive technologies," said Togashi.
PETRA Data Science Managing Director and Founder Dr Penny Stewart and PETRA Data Scientist Arun Prakash Pillal (whom Penny hired following their introduction at Unearthed Brisbane 2017) took out first place for their ShovelVision AI prototypes in response to both the ore characterisation and Ground Engaging Tools (GET) challenges.
In addition to winning a $5000 innovation voucher and $3000 in AWS credits, PETRA Data Science has earned an all expenses paid trip to a global Komatsu site to fast-track implementation of their algorithms.
"This event has been a brilliant opportunity to apply our skills to multiple unstructured data challenges. We are very excited to have won and have already received 100 photographs of bucket teeth to test our algorithms on. We can't wait to engage with Komatsu further on our site visit. It only takes us 6-8 weeks to develop an algorithm, so we think that this agility will prove attractive and valuable to Komatsu," said Stewart.
Team Ad Hoc (members of predictive biometric monitoring startup
"It is very rewarding that our multi-disciplinary team won second prize for a completely out of the box wildcard solution that could lead to real viable results for Komatsu," said Ad Hoc team member and Canaria Co-Founder and CEO Alex Moss.
Third place went to Chilean startup InDiMin who pitched Smart Mining Coach - a digital personal trainer for operators to increase behavioural productivity.
"We were very impressed, because this means the mining industry is starting to change its mindset and Komatsu is one of the big players. So, having access to people with this great seniority and experience who are providing us feedback to see how we can help them has been such a great experience," said InDiMin Co-Founder Alvaro Diaz.

"It has been a very interesting experience, because there are a lot of startups here with huge value propositions and the level of the guys from Komatsu Japan, USA and Australia has been amazing. We don't have the resources to create these types of meetings and we have learnt so much, both from Komatsu and from the other startups," said InDiMin CIO and Co-Founder Loreto Acevedo.
Finally, a special impromptu award was given out to realtime machine learning actionable insights startup Modulr Tech for their excellent pitch, for their understanding of the problem and their relentless entrepreneurial spirit.

"Our experience over the weekend has been absolutely amazing - to be able to meet the international Komatsu executives and have such a positive engagement with them. They were all very open towards collaboration and sharing of ideas and knowledge. We have learned a significant amount and it was thoroughly enjoyable," said Modulr CEO and Co-Founder Khoi Phan.
In addition to opportunities for the winning teams, Komatsu has already set up follow up meetings and arranged an extra site visit to a limestone quarry for Quantum Geology.
"I think an indication that our pitch went well is receiving an invitation to Japan to problem solve for Komatsu, being taken to lunch by the CTO, and various other requests of 'can you help us?'," said Quantum Geology Co-Founder Warwick Anderson.
Congratulations to the winners of Komatsu: Transform Mining and all startups who participated at the event.
Unearthed Industry Lead Dom Hardy said that Komatsu: Transform Mining was the first of its kind, a real conversation between a global heavy machinery manufacturer and cutting edge mining technology startups.

"Komatsu are committed to being the first big customer and validating the technology of as many relevant startups, as quickly as possible. Different engagement models have been drafted depending on the maturity of the startup and Komatsu's willingness to genuinely collaborate with many participating teams has been evidenced as swiftly as meetings and site invitations one day post event," he said.
Unearthed would like to thank our supporters: Komatsu, Amazon Web Services, SAP, and Austmine, and all of the mentors and judges who volunteered their time to impart valuable knowledge.
Full details on Unearthed and its global open innovation program can be found at: http://unearthed.solutions.