Ore Sorting explored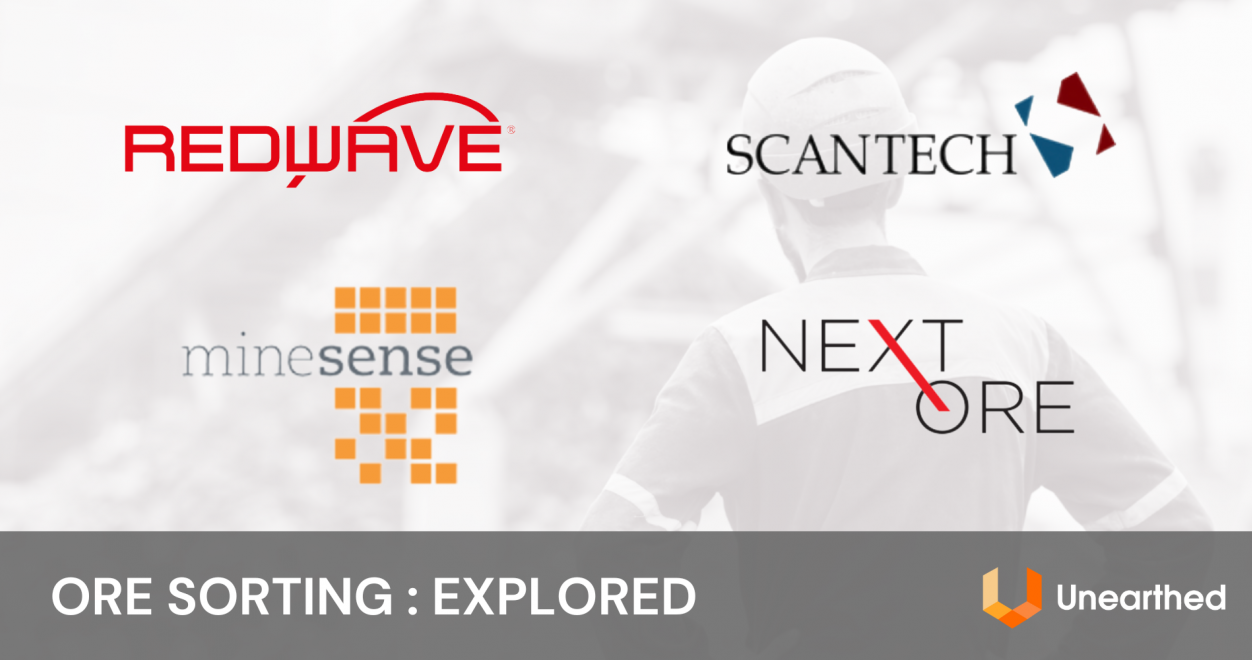 At Unearthed we like to keep our finger on the pulse of the multiple emerging technological spaces that are emerging across the resources landscape. We are going to be "exploring" these areas in a once-monthly examination of specific value-driving domains.
Our first focus area to deep dive into is Ore Sorting, which is a domain that is being trialled and implemented by multiple businesses across different parts of the extraction process.

Ore Sorting is the process of separating waste materials from ore streams, which ultimately improves the contained metals and minerals in the material being sent toward the mill. These technologies use sensors or imaging systems to identify the minerals or materials of interest. Then utilising mechanical or electrical means to separate ore and waste materials.
It can be used to improve the efficiency and productivity of mining operations, by reducing waste and environmental impact. This can also deliver increased profitability by reducing both material movement and required mill throughput.

There have been multiple trials and use cases across the mining sector from various alternative technology utilisation and service providers. However, there appear to be mixed reviews and levels of success from those operations that have piloted ore sorting technologies.

The sensor technologies us
X-ray fluorescence (XRF):

using X-rays to analyse the chemical composition of ore samples. It can be used to identify different minerals in the ore and sort them based on their chemical properties.


 

Prompt Gamma Neutron Activation Analysis (PGNAA):

it works by exposing ore to a neutron beam which causes minerals to emit gamma rays, and analysing the gamma rays to determine the mineral's chemical composition. This information is then used to sort the ore in real-time into different streams, separating valuable minerals from waste.


 

Magnetic Resonance (MR):

is a form of radio frequency (RF) spectroscopy that can be used for quantitative measurement of target ore minerals. In the MR technique, each mineral has a specific "resonance", or response, at a particular radio frequency. The method therefore involves tuning in to one or more specific minerals of value to the target operation.


 

Laser-induced breakdown spectroscopy (LIBS)

: utilising lasers to vaporise a small amount of material from the surface of an ore sample. The vaporised material is then analysed to determine the elemental composition of the ore, which can be used to sort the ore based on its elemental makeup. This is perceived as a methodology that is still under development.


 
The interesting part of the ore sorting puzzle is where it fits within the mining cycle. With numerous solutions being offered once the material is mined and heading on conveyors toward the processing facility. In recent years there have been multiple new steps forward within the Ore Sorting domain, with solutions being applied on excavator buckets to modular systems deep into the processing plant.
Four innovative technologies to explore:

A Redwave ore sorter shown in-situ within a processing facility

Redwave
Redwave, a business headquartered in Austria, utilises XRF based sensors for the focus of their ore sorting range. However, in most situations they blend multiple sensors for their sorting units which can be manufactured for multiple different ore streams. 
Copper, Lithium and Nickel metals can be sorted from mine feeds, generally in units integrated into the overall processing facility. The range of metals, minerals and gemstones Redwave can sort is extensive and proven with projects across the globe. They also manufacture smaller modular units for use in metals recycling sorting.



ShovelSense offers visibility of rock material when being excavated in an open pit setting
MineSense
Offering customers two different data capture points for refinement of their ore streams, Minesense delivers sorting capability from the working face! Their on bucket ShovelSense system utilises XRF to improve visibility of ore across the metals landscape.

This allows the shovel operator to navigate, often complicated, ore boundaries with additional insights. Reducing dilution of ore and processing of barren materials through the mill. Sending waste to the waste dump, rather than to the ROM pad!

When used in conjunction with BeltSense, which is set up for sorting in a more conventional conveyor setting, there are two points for inspection, review and sorting in the long process toward the processing plant.

MineSense is headquartered in Canada, however they have had early success in the Latin Americas, servicing some of the biggest open pit copper mines in the world.

An example of the mobile ore sorting unit that NextOre now hires to customers

NextOre
The team at NextOre have recently implemented the "world's largest bulk ore sorting system" at the Kansanshi copper mine in Zambia, operated by First Quantum Minerals.
The installation at Kansanshi is positioned on the sulphide circuit of the copper processing facility. The throughput is circa 2,800 t/h via the primary crushed conveyor belt. It took circa one year of sensor only trials to tune and validate the system to the specific ore body. With overall commissioning including the diverting hardware, which physically separates the ore/waste streams, taking 17 months.

NextOre was founded in 2017 as a joint venture between CSIRO, RFC Ambrian and Worley. Its Magnetic Resonance (MR) technology represents a perceived step forward in ore sensing, as it allows measurement of all material, delivering an accurate grade estimation, in less than 10 seconds. It also requires no additional washing or preparation of ore streams ahead of entering the sensor system, which reduces water wastage.

A SCANTECH GEOSCAN system installed at an operation.
SCANTECH
Scantech is based in South Australia and has delivered over 40 years of expertise in the ore sorting domain. Originally, they achieved commercial success with their flagship COALSCAN range, which has now been delivered and utilised by over 150 operations world wide.

Their range and application has expanded over time and most recently they have been utilising Prompt Gamma Neutron Activation Analysis  (PGNAA) technologies to deliver conveyor based sorting for a wide range of mining operations.
PGNAA sorting technologies operate at very high speeds, improving accuracy and consistency. They also have the advantage that they don't need to further crush, or disrupt ore streams before sorting activities take place . SCANTECH's GEOSCAN range is adaptable to multiple different ore body styles and geological settings, making it a versatile ore sorting solution.
Summary:
A quick glimpse at the ore sorting technologies side-by-side, with an operational adoption outlined.
Leading edge ideas and concepts can often occur in different variations but with the same underlying goal. We are following multiple innovative businesses exploring ore sorting and the value it can deliver for mining operations across the metals and minerals landscape.

Every small step that can be taken to reduce the dilution of waste rock in the ore stream, can deliver significant value to the bottom line of a mining business. Potentially adding value through the mining process by reducing heavy haulage, power used in crushing and the chemicals used for extraction of metals.
Whilst it is likely that ore sorting will take some time to become industry standard and significantly improve processing outcomes across the industry, there are wins being had by those working with innovative suppliers.
—

Feedback on the "Explored" series:
Unearthed was launched in 2014 with the aim of empowering the resources sector to lead in a sustainable future. Our team identifies cutting-edge technologies, innovators, and companies to make this vision a reality. We are part of a worldwide effort to improve efficiency and increase resource production to meet the growing global demand for essential resources
As part of our commitment to helping deliver tangible change to the industry in 2023 Unearthed is kicking off the Explored and Unearthing series.
These are in addition to our flagship open innovation challenges and will enable us to explore different resource sector technology domains and unearth technologies, companies, and innovators that are working hard to solve them. We want to make these great opportunities for both sides of the equation. Expanding industry knowledge, whilst showcasing those who are working hard to add innovative value. 
As with all new initiatives your support in providing feedback on the domains we are exploring and how we are enriching your knowledge is much appreciated.