Ready for impact - four tech startups graduate Unearthed Accelerator 2017 at Demo Day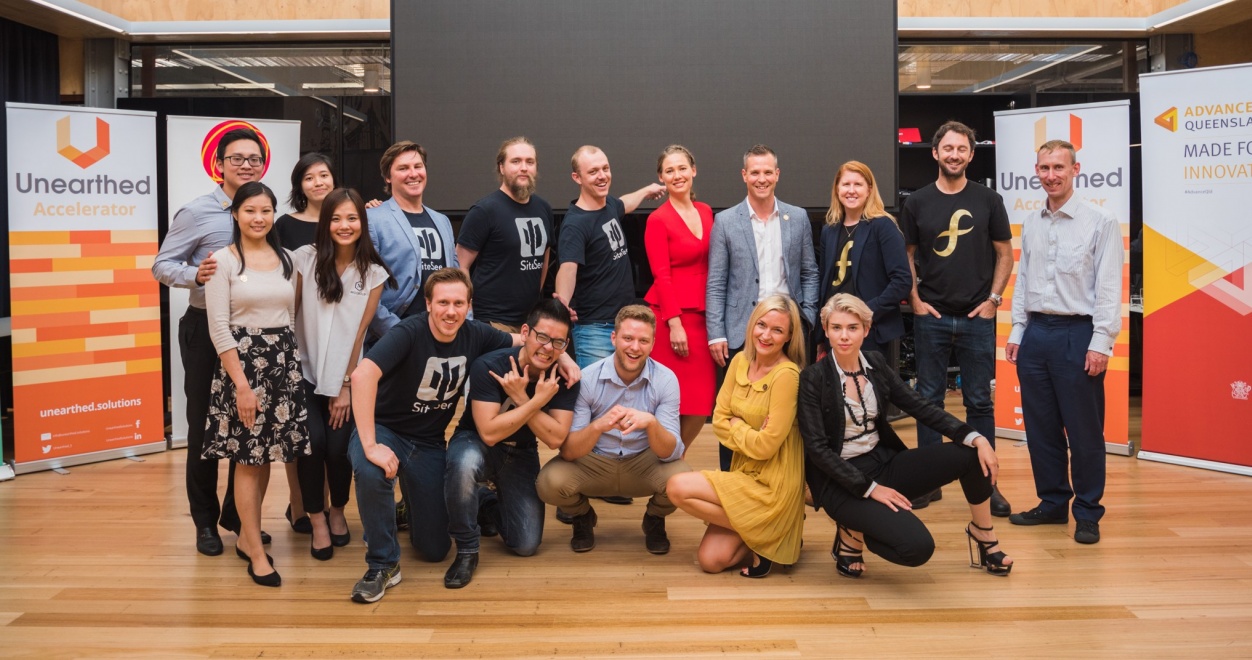 On Friday 1st December 2017, over 120 resources industry executives, METS professionals, government supporters, technology entrepreneurs and investors gathered at Advance Queensland's The Precinct in Fortitude Valley, Brisbane for Unearthed Accelerator Brisbane Demo Day 2017.
Accelerator Demo Day was a celebration of the startups, supporters and mentors that have made this year's program so memorable, and a chance for the dynamic startups to show how much they have grown over the 6 month program and demonstrate their readiness for investment and success in the energy and resources sector.
Program Manager Anya Nova opened the event by welcoming guests and stating how proud she was of how far the startups have come since July, and how grateful she was to the 50+ industry mentors who have provided invaluable expertise and guidance to the startups.
Unearthed Founding Director Justin Strharsky then talked about the massive industry opportunity for startups in the energy and resources sectors.
"We truly believe in the power of entrepreneurship to change people's lives. It is also fundamental to Unearthed that we believe in the unique opportunity on the back of which entrepreneurs can build sustainable businesses. Nearly $2T of impact is coming from digital technologies to the global resources sector by 2035," said Strharsky.
Keynote speaker, Origin Energy Director [x], Felicity Underhill then spoke about their business challenges and how they are seeking to address these with innovation across the gas value chain. She explained how Origin became involved with Unearthed at the Brisbane hackathon in April this year, and how they sponsored the Accelerator program as a result of that experience.
"The Accelerator itself has had a number of benefits for us. It has been an awesome opportunity for our mentors to engage and energise as a development activity. It has helped us make connections internally. Sometimes the products that were less suited to our upstream business were better suited to our energy markets business. It has provided us access to new ideas. One of the things we have realised is that we know we are not going to have all the ideas to deliver our lower break-even price, so we really rely on Advance Queensland, the research institutions and you guys to come up with these great ideas for us, so thank you" said Underhill.
And finally, the four dynamic startups who graduated the program: Canaria, Flowpay, SiteSee and Modulr Tech showcased their incredible progress with pitches and live demonstrations of their transformative technologies set to impact mining and oil & gas companies.
Accelerator Demo Day concluded with networking, drinks and canapes.
The Unearthed Accelerator 2017 has been an incredible collaboration of a community Unearthed is trying to foster between industry, government and startups. Thank you to everyone who made the program such a success, especially the talented and inspiring startups: Canaria, Flowpay, Modulr Tech, and SiteSee, as well as our fantastic supporters: Origin Energy, Advance Queensland, River City Labs and METS Ignited, and last, but certainly not least the 50+ generous mentors who have contributed so much over the last 20 weeks.
If you missed out on Unearthed Accelerator Demo Day 2017, or would like to re-live the celebration of the amazing startups, supporters and mentors, check out the photos and full event video.
SiteSee Sales Director and Co-Founder Lachlan Crane said that something SiteSee has taken from the program is that they were previously focused on one particular industry vertical that they believed their service was offering.
"The Unearthed Accelerator program challenged us to take a step back and look at what it is our service is about, the core principles about it, and then being able to apply that to other industry verticals. So, since then we have delivered projects within the oil and gas sector overseas in Papua New Guinea, and as of today, with Demo Day, we are receiving a lot of inbound inquiries from international resources companies who are wanting to work with us, which is pretty exciting," Crane said.
Canaria CEO and Co-Founder Alex Moss stated that if you are trying to do something that is a little bit unusual or niche in the resources and mining sector, Unearthed is hands down the only Accelerator in the world which is suited to you.
"It is one of the few Accelerators and the few countries in the world that realises that technology is really significant to the resources sector and there are huge gains to be made. Although it appears to be a closed industry, it is actually quite open to change and you can make headway by doing the unthinkable and bringing real innovation in the resources industry that otherwise gets ignored," explained Moss.
Applications for the Unearthed Accelerator 2018 program will open in March next year. Register your interest here.