South Dakota students travel over 10 hours to be BattleBorn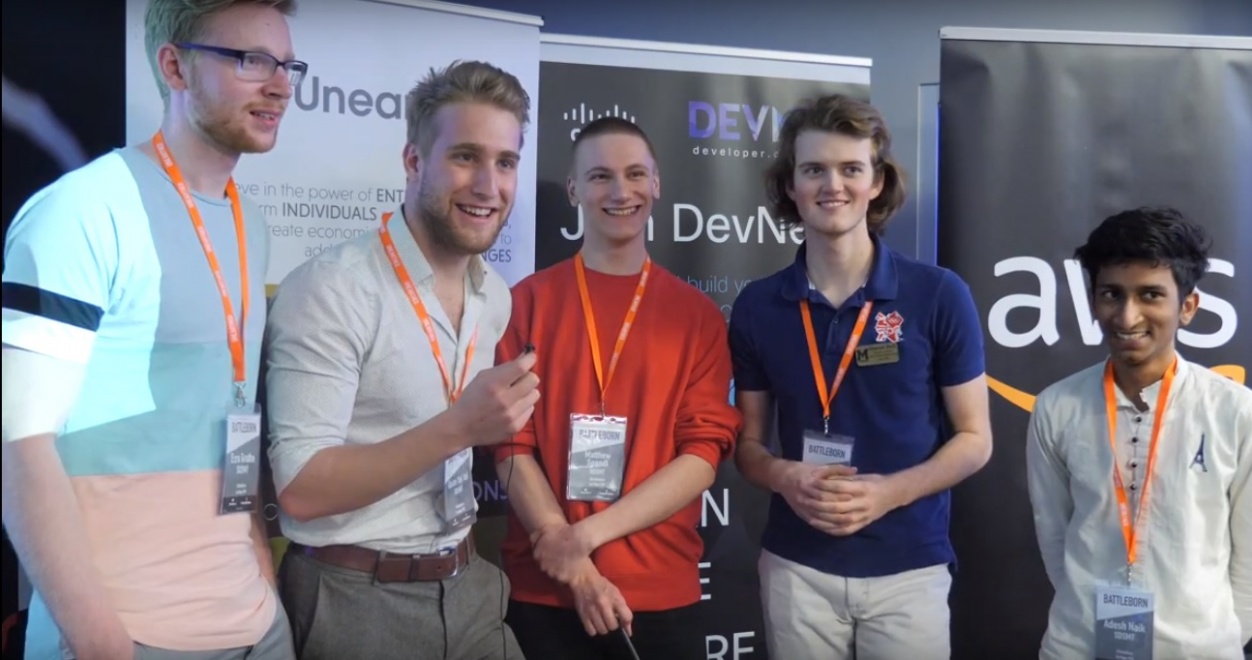 On Friday 9 March 2018, five incredibly keen and talented students from the South Dakota School of Mines and Technology embarked on an epic journey to take part in resources technology hackathon BattleBorn in Las Vegas, Nevada.
One of the students, Senior Mathematics and Engineering double major Quinn Del Val, applied for the hackathon immediately when he heard about BattleBorn from department head Dr. Kyle Riley, who had sent out an email to all mathematics students. Junior Computer Engineer Ezra Grothe, Junior Chemical Engineer Matthew Spandl, Junior Mechanical Engineer and Physics and Mathematics student Marcus Hall, and Computer Science Freshman Adeshkumar Naik were referred by Quinn and said that they jumped on the chance as soon as they found out about it, as it seemed like a really great opportunity.
South Dakota School of Mines and Technology is located in Rapid City. When looking into logistics, the group soon found that there were no direct flights available. This meant driving five hours to Sioux Falls, South Dakota to catch a flight to Las Vegas from there. Quinn had to travel even further, as he was flying out from Minneapolis. When his 6am flight was cancelled on Friday morning, he still managed to make it to the hackathon, albeit slightly late.
The BattleBorn hackathon was a 54 hour, weekend-long open innovation event, running from 9-11 March 2018 at Rob Roy's Innevation Center, powered by Switch, featuring real data and challenges direct from Barrick's mining operations. Over 100 participants from 5 US states, plus Argentina, Colombia and Canada were presented with four challenges and tasked with the opportunity of identifying inefficiencies and developing technical solutions to a selected challenge. In teams, participants brainstormed solutions and developed an MVP over the course of the weekend, with mentors from Barrick, Cisco, Amazon Web Services and Unearthed on hand to lend their expertise and support. On Sunday afternoon, teams pitched their innovative solutions to a distinguished judging panel of venture capitalists, technologists and industry leaders.
After the dust had settled post hackathon, we caught up with Ezra Grothe and Quinn Del Val to find out what they had hoped to get out of the open innovation event, their views on connections between the mining industry and tech community, and what they thought of their BattleBorn experience. Here's what they had to say:
---
Why were you interested in taking part in the BattleBorn hackathon?
Ezra: I have enjoyed coding since I was 10 years old, but I've never had the opportunity to participate in a hackathon. The challenges provided by Barrick at BattleBorn intrigued me, which is why I wanted to take part.
Quinn: I was interested in exploring the mining industry further, and I was especially interested in the problems posed by the four different challenges. I was excited to potentially get a chance to really work on my presentation skills, and network with students and professionals from around the country.
As students at the South Dakota School of Mines & Technology (SD Mines), how engaged do you think the mining industry is with the local innovation and tech community?
Ezra: The mining industry is a huge benefactor from the growth of STEM fields. Being located in the Black Hills, SD Mines has a strong connection to local mining companies, and a number of our students receive job offers in mining fields after graduation.
Quinn: Previously, I didn't think that the two fields were very related. After this event though, I absolutely see how innovation and new technology have immediate impacts on the mining industry, which is really exciting.
What are the main factors that you think contribute to a good collaborative ecosystem (between industry and community)?
Ezra: I think one of the biggest ways for an industry to build collaboration with a community is to stay involved. I think this can mean giving back, as in donations or sponsorships. It could also mean staying within a community where the industry roots are, as opposed to leaving a community to pursue cheaper opportunities elsewhere.
Quinn: Communication is one of the most important factors in any collaborative experience. Making sure that both sides know what the other side is doing and what they plan to do in the future can help avoid any tension between both sides, and it fosters much more of a teamwork mentality as opposed to an "us versus them" approach. Obviously both sides are looking to benefit from a mining company coming to a region, and sitting down and talking through the pros and cons of a mine with the community is a great way to make sure everyone is on the same page.
You guys travelled a long way to take part! What did you see as the big opportunity in participating at BattleBorn? What did you hope to achieve?
Ezra: Obviously we were hoping to take out first place! On a more serious note, I liked refining my coding skills and working on some real-life problems. I was also looking to network with other students and professionals from across the country.
Quinn: The biggest opportunity I saw was to diversify my experience and gain new connections in uncommon places. I knew that working with a diverse team, as well as observing how other teams worked, would help me improve my leadership and teamwork skills, and I was really looking forward to that. I hoped to learn more about my personal leadership style as well as how to read team members and tailor my leadership to their needs.
How was your BattleBorn hackathon experience? What did you get out of it?
Ezra: BattleBorn was an exciting experience working on real world industry problems. It was fantastic to network with everyone who came to BattleBorn. I enjoyed working with cool people on cool stuff. This was our first hackathon experience. We have attended startup weekends before, but the energy and excitement around tackling these industry challenges at BattleBorn was impressive.
Quinn: We met some great people: the Barrick, Cisco, Amazon Web Services and Unearthed mentors and also the other participating innovators. They will be great contacts for the future no matter what industry we go into. The difference between college and the hackathon is that the challenges here are so open-ended and require you to really tap into your creativity. It was a big eye-opener for all of us. We enjoyed the experience and the challenge of delivering solutions in the tight 54 hour time frame.
---
Thank you to Ezra Grothe and Quinn Del Val from South Dakota School of Mines and Technology for taking the time to share their BattleBorn experience with us. The Unearthed team looks forward to seeing where these driven and skilled innovators go from here.
For more information about upcoming Unearthed events, visit: https://portal.unearthed.solutions/