Taking local energy tech startups to the world through global tour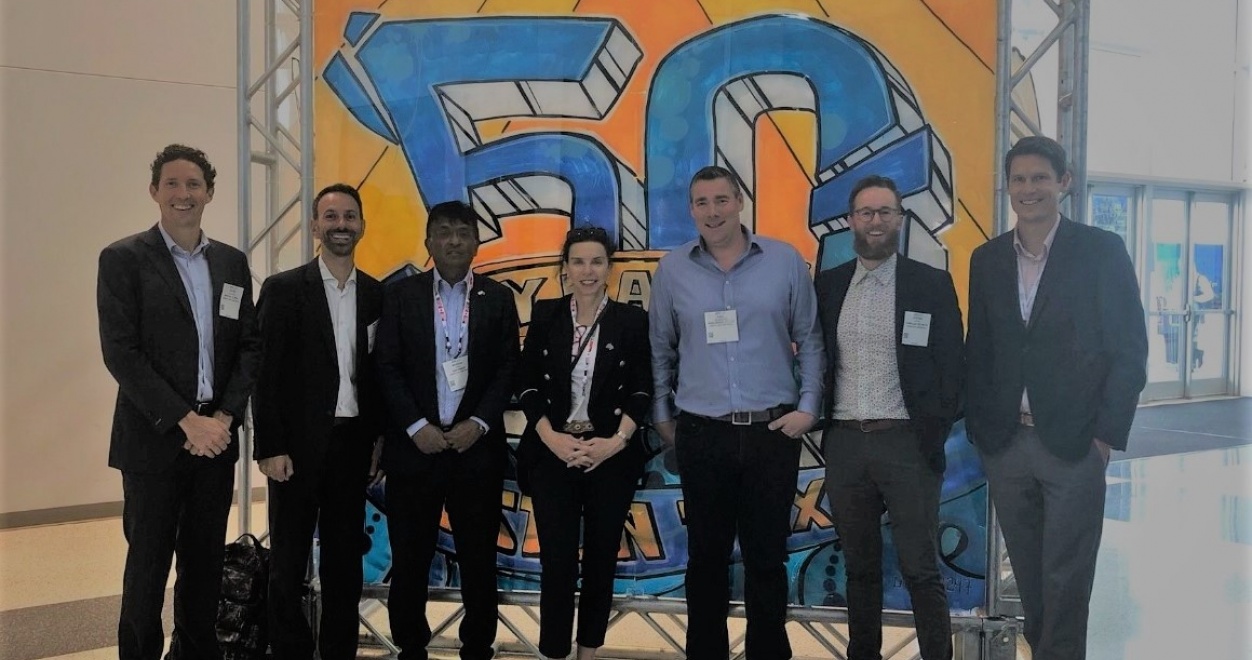 For most Australian startups and SMEs, the chance to attend major international conferences and forge crucial supply chain connections is often out of reach. But through a collaborative tour developed by NERA with support from Unearthed, Station Houston and The Oil and Gas Technology Centre (OGTC), Australia's leading tech pioneers are turning this dream into a reality.
In May 2019, Australian tech pioneers A60N, AiSpanner, Cumulus Projects and MyPass embarked on this journey, becoming the first participants in an exciting new international program that took them to Houston to attend the Offshore Technology Conference (OTC), the largest oil and gas conference in the world, as part of the global energy technology exchange program.
The Australian startups joined their UK counterparts RAB Microfluidics and TenzorGeo to engage in a custom program developed by Station Houston to complement the OTC experience, including workshops, networking events and meetings with leaders from industry, academia, government and global energy technology ecosystems.
The tour to Houston formed the first of an exciting three-stage program that is connecting major energy resource ecosystems around the world to provide global solutions. Underlying the global impact of the program, we will later this year select technology representatives to travel on to Aberdeen for a program of events anchored by the SPE Offshore Europe Conference and Exhibition in September 2019. Then in March 2020, NERA will host visiting tech innovators from the USA and UK at AOG 2020 – one of Australasia's leading energy events.
Roma Sharp, NERA SME Engagement Manager, explained that the program delivered more than just an international conference ticket.
Through the program we have developed, our participating tech innovators made connections with people who challenged their technologies at a level they possibly hadn't been before, prompting them to think more seriously about their technology's value propositions, and more realistically about how they might enter the global supply chain.
"That process, and the program more broadly, has delivered confidence that they have something of value, and the power of collaboration and networking has been exponential, working as a group," said Ms Sharp.
Matt Smith, Managing Director of MyPass, said the thought-provoking program has equipped MyPass with the tools and confidence to enter their technology into the market.
This program has been about giving us those touch points with some of the organisations already established in Houston, who have been able to test our value proposition and give some feedback on whether the solutions we're applying in Australia and New Zealand actually have relevance in North America."
"It's really given us the confidence to go to the next step - to figure out a go-to-market strategy," said Mr Smith.
Paul Georgeson, A60N, said that visiting Houston enabled their company to meet with operators and leading subsea manufacturers, helping them to forge connections that will increase their likelihood of successful market entry.
It's been really invaluable to make those contacts, even just understanding how different accelerator programs are working."
Cumulus Projects Founder Steven Cocks said that the Energy Tech Tour to Houston offered early stage startups the chance to connect with influencers in the oil and gas capital of Houston.
Many supermajors have global headquarters in Houston, or at a minimum a substantial presence. The people we met were very open to discussing our product and also making introductions to others within their own business networks. The RICE Startup Roundup Office Hours was by far the highlight for us. Further to this was the schedule of meetings organised by NERA, Unearthed and Station Houston. The camaraderie and support of the full cohort made the tour so much more enjoyable."
David Camerlengo, Unearthed General Manager, said:
It has been incredibly valuable for the four startups from Australia to connect with global industry customers and investors, validate their technology solutions for a global market and quickly get embedded in the Houston ecosystem. The added value is the ability to share learnings with start-ups from Australia, Houston and Aberdeen as part of the group."
Creating international connections for growth
The global technology tour program has been developed to support, promote and connect Australia's energy technology innovators with major energy resource hubs around the world. Miranda Taylor, NERA CEO, said NERA will continue to demonstrate the enormous multiplier effects that can be achieved by connecting local energy innovators with global supply chain opportunities.
The tech tour to Houston has given its participants an invaluable experience, opening doors and equipping them with skills to excel in the future, both nationally and internationally," said Ms Taylor.
"We have some of the best energy technology right here in Australia and, through initiatives like this, we can share these industry solutions with the rest of the world and watch those growth stories happen."
As part of the global tech tour's next stop at SPE Offshore Technology Conference in September 2019, NERA will coordinate a WA pavilion at the event, celebrating and showcasing Western Australia as a global energy hub. Following Aberdeen, there will be a tour to Perth in March 2020, which will be centred around the Australasian Oil and Gas Conference.
Beyond this, NERA, Unearthed, Station Houston and the OGTC hope to connect with more energy hubs around the world, build on this momentum and continue to create opportunities for local SMEs and startups to connect with international markets and showcase their innovative solutions on a global stage.
Follow our social channels for details surrounding the upcoming tech tour to Aberdeen.