Unearthed Adelaide Winners: Improving Drill Core Scanning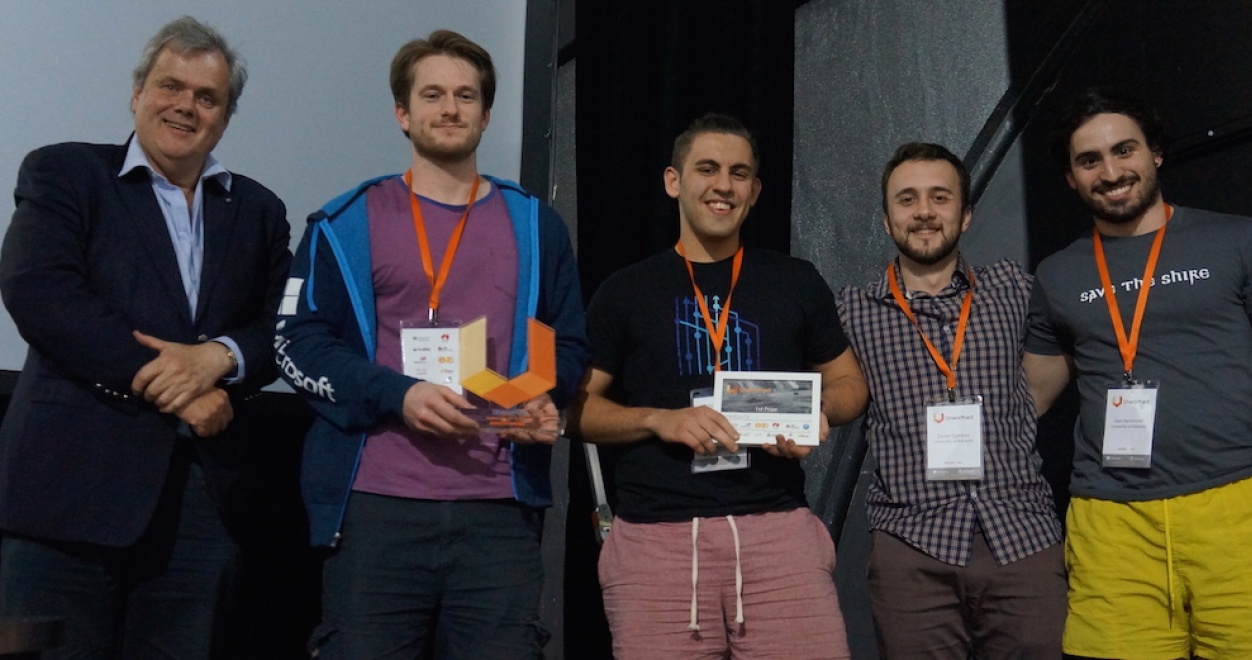 Unearthed's first ever Adelaide Hackathon was a resounding success with BHP Billiton, Oz Minerals and the South Australian State Government submitting real life resource related challenges facing South Australia. 54 hours, 21 teams and 21 prototypes later, the challenge was brought to a triumphant close.
First prize was awarded to Team HyperspecX (Tullie Murrel, Jack Gerrits, Konrad Janica, Ravi Hammond and Daniel Camilleri) from the University of Adelaide for their Hyper Specx MKX7 Scan in response to the core mineral visualisation challenge from the SA Government.
We sat down with Daniel Camilleri to gain an insight into the process of development and his team's Unearthed Hackathon experience
Q. Could you give a description of the approach that you took and your prototype?
A. We first consulted with CSIRO and SA government to get a good understanding of the problem. It's a complex area and our team did not have a background in the resource sector. Those who are best able to define a problem generally end up providing the best solution. We then planned our product, roles and worked like absolute mad for the next fifty-four hours!
Mining companies take drill core out of the ground of up to a kilometre long to find the best veins to mine. That process of extracting drill core costs $300 000 each. We spend $600 million per annum in Australia taking literal holes out of the ground. At that price, we want to do as few as possible and get as much valuable information. Drill core informs a large amount of decision making for mining companies. This is what attracted us to solving this problem.
CSIRO created the HyLogger to analyse the core with high technical accuracy. The HyLogger does hyperspectral analysis in the visible and infrared light spectrum. This data tells us the chemical composition and rock structure of the core.
Unfortunately, the HyLogger only captures hyperspectral data at 80 millimetre intervals. This leaves a huge percentage of information that is not analysed. Throughout the drill core the HyLogger also takes a 3-band RGB image. Each mine stores millions of terabytes of RGB images along with their hyperspectral data. We used machine learning to extrapolate what the 3 band RGB could tell us. Thus, we were able to create a complete picture of the drill core in a way that was not possible
Q. Could you give a brief background of the backgrounds of each group member?
A. I am doing my Masters of Organisational Psychology and I'm interested in the intersection of user experience and the creation of great products. The other four are brilliant computer science engineers. Tullie is currently studying Computer Science at the University of Adelaide, Jack is in his second year of a bachelor of Computer Science (Advanced) at the University of Adelaide, Konrad is in his final year of a Bachelor of Computer Science degree at the University of Adelaide and Ravi is in his second year of a bachelor of Software Engineering.
Q. How did you all meet? 
A. I walked past a sign about a hackathon run by the Commonwealth Bank that started the next day. I signed up and made a team. Our Unearthed group was on three different teams. We were all fortunate enough to make the Top 4 of the competition. We became friends and have continued to go to some computer science events together.
Q. Could you describe your experience working in the resource space? Did you encounter any challenges? 
[pullquote type="left"]We had this assumption that every industry is taking advantage of these giant leaps of technology but in fact there a lot of simple things that could be improved.[/pullquote]A. The hackathon was our first experience in the resource sector. We had no background in mining, which on Friday night, made it quite challenging! We had to get up to speed with the basics. For example, what the processes are in mining  and the significance of the problems given to us. We had this assumption that every industry is taking advantage of these giant leaps of technology but in fact there a lot of simple things that could be improved.
The second was validating our findings.  We were dealing with big data – just parsing the huge volume of data the difficult. Not to mention that it was in a format that we hadn't come across. Lastly, execution in such a short period of time was a challenge.
Q. What impact could your prototype hold for the industry? Do other industries use this current approach and to what outcomes?
A. I'm not aware of any other industry that does hyperspectral analysis but I'm sure there are some. In regards to impact, companies can use the existing data that they have already collected and our solution can tell them more about what they already have and let them understand more about their mine that previously wasn't possible.
Q. What is the potential future of your prototype? 
A. We're still working on it and seeing if we can improve the whole solution. We're meeting with the SA government in a few weeks hoping to gauge interest and hopefully make a commercially successful startup.
Q. What tips can you give to future participants at Unearthed Hackathons?
A. Try to put together a team with very different skill sets. Make sure someone is able to communicate complex idea's – there were lots of great creations that weren't explained as well as they should have been. Above all, have fun!