Youngest Participant ever at Unearthed Adelaide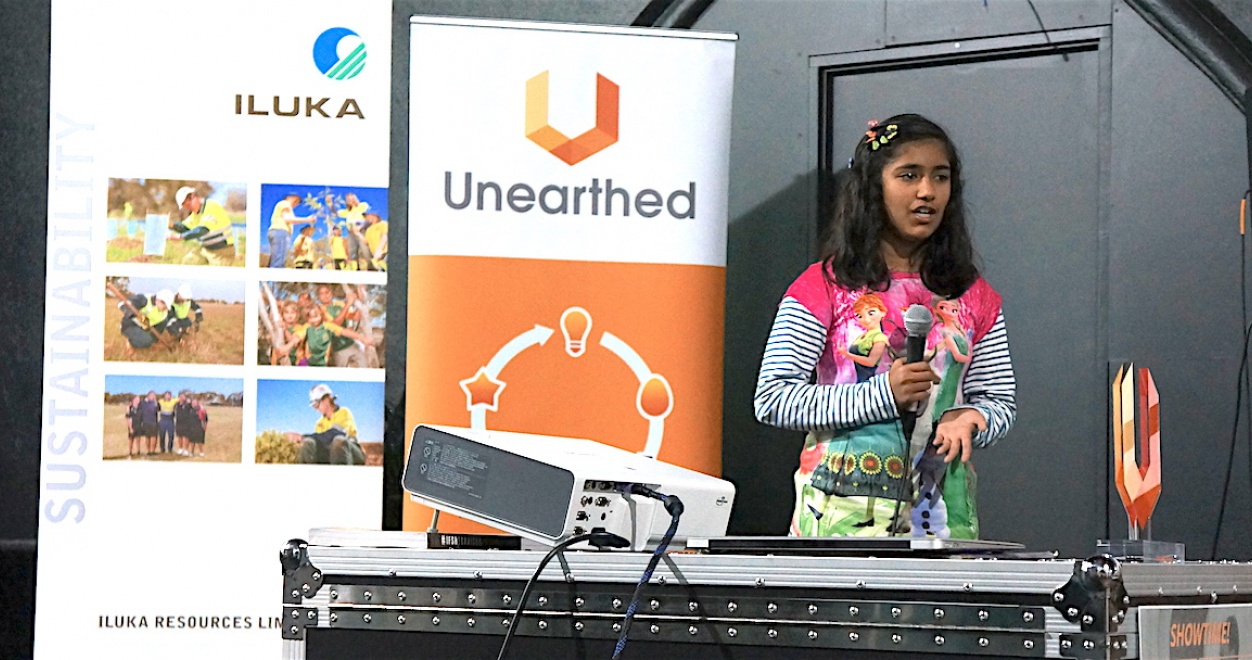 Unearthed hit new heights when we held our Adelaide Hackathon at the end of May 2016 . It was the second consecutive year that Unearthed hosted its Hackathon in Adelaide and saw a new resource company join us in the Hackathon, innovators travel interstate to take part and our youngest ever participant.
For the first time, Santos were part of an Unearthed Hackathon, bringing in a challenge that asked participants to optimise work orders and travel routes. It so happened that the winning team "Journey Optimisers" solved this challenge (see picture above).  Iluka Resources also participated in the event, their second event with Unearthed.
"Iluka Resources will always seek innovations and at Unearthed we continue to be impressed by the technological talent that the event draws. Several teams addressed our challenge and all will be receiving feedback from the Iluka Resources representatives. We look forward to seeing what comes next in the immediate future,"
Gavin Swart, General Manager, Major Projects & Engineering, Iluka Resources.
---
Hackathon enthusiasts John Vial and Hilary Goh joined us from Brisbane to take part in Unearthed Adelaide. This dynamic duo have now taken part in 7 Unearthed Hackathons combined and it appears that they are not quite done yet!
However what was most pleasing out of the weekend at Unearthed Adelaide was the presence of our youngest participant ever!
Husan Ara, at only 12 years old, took part in Unearthed Adelaide, with the support of her father Baber Bhatti.  Husan attended the event with her father, however she decided to take on the challenge from Iluka Resources on her own and her father addressed the challenge from Santos. Husan impressed both the mentors and the judges with her logical approach to the challenge, her clear thought process and the questions she was asking throughout the weekend. It was clear that she had understood the challenge and thought over in her head just how she would solve it. Her final presentation at Unearthed Adelaide demonstrated confidence way beyond many of her peers.
Unearthed has written a letter to Husan Ara and wishes her the best of luck in her future endeavours.
Below, we have also compiled several comments from Unearthed partners who recognised the achievements of Husan Ara across the weekend at Unearthed Adelaide:
Iluka Resources has a strong commitment to diversity, particularly with respect to gender, age, disability and indigenous employment.  We work hard to remove barriers to participation in our workforce, and were therefore thrilled that Husan was drawn to tackle our challenge.
Miriam Stanborough, Iluka Resources.
---
The judges were particularly impressed with the understanding of a complex problem that Husan had developed in a very short space of time. Her analysis of the problem and the step by step process she outlined to solve it was exceptional, ranking with many of the presentations given by the University based student teams.
Steve Benn, Santos Ltd.
---
Husan's presentation skills at such a young age are to be commended. Husan successfully delivered a well-structured presentation, which illustrated her depth of understanding of the challenge and the formation of her solution. Her confidence in delivering in front of such a large audience was remarkable. I wish her all the best for her continued studies.
Christie Gerrard, Department of State Development, South Australia.
---
Husan exhibited a remarkable maturity at the 2016 Adelaide Unearthed hackathon held over the weekend of 27-29 June 2016. She exhibited key attributes of focus, questioning, thoughtful patience and determination to achieve a solution to a complex resource industry problem. I wish her every success in her secondary schooling and in her future career whatever that might be.
Susan Andrews, Department of State Development, South Australia.