37 Essential Machine Learning, Data Science and Artificial Intelligence Podcasts to Subscribe to in 2020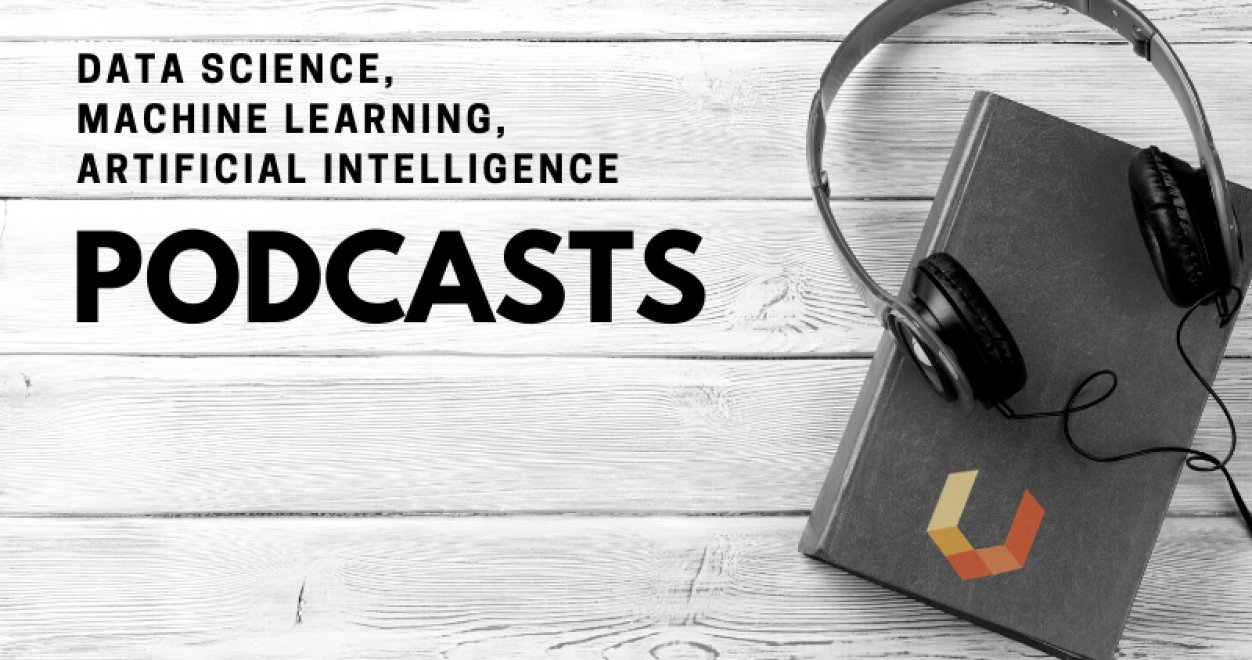 Top Podcasts for Data Science, Machine Learning and AI
What would it have been like to be there at the start of the internet or being right there when Amazon, Apple, Microsoft, Google or Facebook opened their doors for the first time? 
How would things be different today if you had the opportunity to get in on the ground floor when these companies started? Could you have been part of the development of the key technologies that shape our work and lives?
This opportunity exists now for those willing to make the effort. We're talking about the development in fields of Data Science, Machine Learning and Artificial Intelligence. 
These fields have experienced triple-digit growth over the last 5 years - and they're only getting started. No matter where you are, these fields present an opportunity for you to apply clever thinking to tough problems, to solve technical challenges and develop the tools of the future.
At Unearthed we've spent the last 7 years building one of the world's largest communities of startups, developers, and data scientists. Through partnerships with mining leaders like BHP, Origin, Newcrest, AngloAmerican, OzMinerals, Barrick & Komatsu we have awarded over $1M through Data Science competitions. Together we run data science competitions to find solutions to some of the toughest problems they face today.
Maybe you're just starting out in the industry or perhaps you're already a seasoned pro - one thing is for certain: Staying on top of all the developments in this field can be tough. 
To help make it easier, Unearthed will be publishing a series of articles to showcase some of the best contributors, experts, thought leaders and content creators in our industry, so you can learn about them and stay on top of new developments.
First off the rank: Podcasts.
If you have any interest in data science, machine learning or artificial intelligence, then these are some of the top podcasts to have on your radar in 2020.
Artificial Intelligence (AI Podcast) with Lex Fridman
| Listen Now | Lex Fridman hosts conversations about technology, science, and the human condition.  
We love this podcast because Lex tackles a very broad range of topics with interesting guests from around the world. The show strikes a perfect balance between entertaining, thought provoking discussion and serious talk. We also love how Lex queries his guests on complex topics so that it can be understood by all. 
Artificial Intelligence in Business
| Listen Now | In this podcast, hosted by Daniel Faggella you can learn what's possible and what's working with artificial intelligence in business today. Weekly interviews with top AI and machine learning-focused executives and researchers in industries like Financial Services, Pharma, Retail, Defense, and more. Discover trends, learn about what's working now, and learn how to adapt and thrive in an era of AI disruption.
We like this because it helps you navigate the commercial challenges and opportunities surrounding machine learning  and AI across a wide range of industry sectors.
Banana Data Podcast
| Listen Now | A new data science podcast, focused on the latest & greatest of the data science ecosystem, sprinkled with musings & data science expertise from the hosts. Topics range from ethical AI and transparency to robot pets. Triveni & Will keep you up to date on the latest trends, news, and big convos in data.
Becoming a data scientist
| Listen Now | Every two weeks, the hosts air an interview with a data scientist or someone on their way to becoming a data scientist, to learn about their path to get to where they are today.
Data Crunch
| Listen Now | Data crunch talks to entrepreneurs and experts about their experiences employing new technology—their approach, their successes, their failures, and the outcomes of their work and try to make these difficult concepts accessible to a wide audience. Listen if you're interested to learn how data science, artificial intelligence, machine learning, and deep learning are being used to change our world for the better. 
Data Crunch distills complex topics into practical advice and approaches that anyone with a basic skillset and understanding can apply. It's interesting to learn how machine learning is applied today in many business fields.
Data Engineering Podcast
| Listen Now | Weekly deep dives on data management with the engineers and entrepreneurs who are shaping the industry.
We like the Data Engineering Podcast because it helps you understand the more technical side of managing your data and explores new technologies available to store and derive insights at scale.
Data Framed
| Listen Now | Data science is one of the fastest growing industries and has been called the 'Sexiest job of the 21st Century'. But what exactly is data science? In this podcast, brought to you by DataCamp, Hugo Bowne-Anderson approaches the question by exploring what problems data science can solve rather than defining what data science is.
From automated medical diagnosis and self-driving cars to recommendation systems and climate change, come on a journey with experts from industry and academia to explore the industry that will change the course of the 21st century.
Data Futurology Podcast with Felipe Flores
| Listen Now | Data Futurology focuses on the leadership side of AI and how to get the most value from it. Artificial intelligence is a tremendously beneficial technology that's advancing at an incredibly rapid pace. As more and more organisations adopt and implement AI we find that the main challenges are not in the technology itself but in the human side, ie: the approaches, chosen problems and what's called 'the last mile', etc.
Data Science at Home
| Listen Now | Produced by Amethix Technologies, this show airs weekly and aims to explain the latest and most relevant finding in machine learning and artificial intelligence by interviewing researchers and influential scientists in the field.
Data Science Ethics
| Listen Now | With great power comes great responsibility. This is a great podcast that explores those times where things don't quite go as planned and how we should be mindful of the way we deal with sensitive information.
Data Science Imposters
| Listen Now | Explore data science, analytics, big data, machine learning as we discuss these topics.
From fake news bots to the Zika virus and algorithms that can read better than humans, this show has it all. Antonio and Jordy explore complex topics in a way that anyone can understand. Easy to listen to with a variety of interesting topics.  
Data Skeptic
| Listen Now | The Data Skeptic Podcast features interviews and discussion of topics related to data science, statistics, machine learning, artificial intelligence and the like, all from the perspective of applying critical thinking and the scientific method to evaluate the veracity of claims and efficacy of approaches.
We like Data Skeptic because they offer a balanced view of the opportunities and limitations in machine learning systems today. There are interesting episodes about fooling AI and computer vision systems, great insights into natural language processing and how data science is practically applied in industry today. 
Freakonomics Radio
| Listen Now | Discover the hidden side of everything with Stephen J. Dubner, co-author of the Freakonomics books. Each week, Freakonomics Radio tells you things you always thought you knew (but didn't) and things you never thought you wanted to know (but do) — from the economics of sleep to how to become great at just about anything.
Since the first publication of Freakonomics in 2005, Steven Levitt and Stephen J. Dubner has continued to make complex topics accessible to all. They are fantastic at storytelling and every time we listen to an episode we always have something to think about for the week ahead. This podcast doesn't deal with machine learning, AI or data science directly, but it is a must-listen if you're curious to learn about the unique and novel ways we can derive insights from data, and how those affect you in your daily life (even if you don't notice it).
Google Cloud Platform Podcast
| Listen Now | The Google Cloud Platform Podcast discusses everything on Google Cloud Platform from App Engine to Big Query.
HumAIn Podcast
| Listen Now | David Yakobovitch explores AI for consumers through fireside conversations with industry thought leaders on HumAIn. From Chief Data Scientists and AI Advisors, to Leaders who advance AI for All, the HumAIn Podcast is the channel to release new AI products, to learn about industry trends, and to bridge the gap between humans and machines in the Fourth Industrial Revolution.
Learning Machines 101
| Listen Now | Smart machines based upon the principles of artificial intelligence and machine learning are now prevalent in our everyday life. For example, artificially intelligent systems recognize our voices, sort our pictures, make purchasing suggestions, and can automatically fly planes and drive cars. In this podcast series they examine questions such as: How do these devices work? Where do they come from? And how can we make them even smarter and more human-like?
The objective of this podcast is to help popularise and demystify the field of Artificial Intelligence by explaining fundamental concepts in an entertaining manner. Many advanced topics in artificial intelligence and machine learning are discussed at a "high-level" so students, scientists, and engineers working in the machine learning area can identify relevant "entry points" into advanced statistical machine learning topics. 
Dr. Richard Golden explores how machines learn and behave and since 2014 he's been publishing regular episodes here so you can follow along and do the same. We love it and it's a great place where you can learn all the concepts required to build your own machine learning system.
Linear Digressions
| Listen Now | Linear Digressions is a podcast about machine learning and data science. Machine learning is being used to solve a ton of interesting problems, and to accomplish goals that were out of reach even a few short years ago.
We like it because they always offer something for both newbies and seasoned experts alike. Interesting discussions across the board with advice on data science as a career, technical advice and how these technologies are applied practically in industry.
Machine Learning Guide
| Listen Now | Tyler Renelle teaches the high level fundamentals of machine learning and artificial intelligence. Topics include basic intuition, algorithms, and math, languages and frameworks, deep learning, and more. Other resources provide the machine learning trees, and this podcast provides the forest. At the end of every episode they provide high-quality curated resources for learning each episode's details.
We love it because this podcast is somewhat of a syllabus that you can follow and learn along. Listeners describe it as fun, inspiring, informed and well structured and we recommend you start at the beginning and work your way through - it will be well worth it!
Machine Learning – Software Engineering Daily
| Listen Now | Software Engineering Daily features daily interviews about technical software topics. Hosted by Jeff Meyerson, after every episode of this podcast you should feel like you are 1% better at understanding how software works.
Jeff Meyerson is an excellent podcast host and the guests here are second to none. We love the focused production and it's a great place to explore all aspects of machine learning and how it's applied in the software you use today.  
Making Data Simple
| Listen Now | Hosted by Al Martin, IBM VP of Data and A.I. Development, Making Data Simple provides the latest thinking on big data, A.I., and the implications for the enterprise from a range of experts.
Since 2017 IBM has been publishing their Making Data Simple podcast and it is full of practical, action-oriented recommendations and ideas. Not only do they cover a wide range of technologies available but also touch on broader discussions surrounding the industry and what it means for you.
NLP Highlights
| Listen Now | Researchers are invited to talk about their work in various areas in natural language processing. The hosts are Matt Gardner, Pradeep Dasigi (research scientists at the Allen Institute for Artificial Intelligence) and Waleed Ammar (research scientist at Google).
Natural Language Processing is a field that has received a lot of attention over the years, and this podcast is for you if you'd like to be on the bleeding edge. It's deeply technical in nature, so probably not a great place for beginners, but well worth looking into if you're interested in going narrow and deep on NLP.
Not So Standard Deviations
| Listen Now | Roger Peng and Hilary Parker talk about the latest in data science and data analysis in academia and industry.
We like Roger and Hillary's open and light hearted discussions on this podcast - it's low key, easy to listen to and they don't take themselves too seriously. Don't let that fool you though - their discussion is packed with insights and perspectives on topics ranging from the R language, successful open source business models, how ideas evolve over time and developments in the data science industry. 
O'Reilly Data Show Podcast
| Listen Now | The O'Reilly Data Show Podcast explores the opportunities and techniques driving big data, data science, and AI. 
Coined the "grand daddy of data science podcasts" by one listener, the O'Reilly Data Show podcast is a must-listen recommendation from us with regular updates on trends, tools for machine learning development and advice for machine learning practitioners in all fields.
 
Partially Derivative
| Listen Now | Explores the data of the world around us, hosted by data science super geeks. For the nerdy and nerd curious.
Even though Partially Derivative is no longer active, we see it as a great resource for anyone entering the world of data science. If you're looking for a fun way to explore the wonderful world of data science, this is for you.
Practical AI
| Listen Now | A podcast that tries to make artificial intelligence practical, productive, and accessible to everyone.
Hosted by Chris Brenson and Daniel Whitenack, the Practical AI podcast explores how AI is applied in broad fields like drone racing, quantum mechanics, ecommerce, military and studying the ancient worlds (to name a few). You're sure to find something interesting here.
Python Bytes
| Listen Now | Python Bytes is a weekly podcast hosted by Michael Kennedy and Brian Okken. Python Bytes podcast delivers headlines directly to your earbuds. If you want to stay up on the Python developer news but don't have time to scour reddit, twitter, and other news sources, just subscribe and you'll get the best picks delivered weekly.
Skafos Applied Machine Learning Podcast
| Listen Now | In this podcast, Skafos Head of Data Science, Dr. Miriam Friedel, interviews data science leaders who have experience integrating machine learning into products to drive business value. Come and hear about how to successfully merge AI, software engineering, and product to deliver the power of machine learning the way you've always wanted. Through these conversations, we hope you get a sense of all the exciting ways that you can use ML to build your business.
TAG Data Talk
| Listen Now | Hosted by Dr. Beverly Wright, TAG Data Talk discusses news, trends, and ideas in the world of Data Science and Analytics.
If you're interested to learn about the applications for data science in large organisations, this one is for you. It features regular discussions with data scientists from a range of global organisations on everything from human behaviour to building a data science function from the ground up. 
Talking Machines
| Listen Now | Talking Machines is your window into the world of machine learning. Your hosts, Katherine Gorman and Neil Lawrence, bring you clear conversations with experts in the field, insightful discussions of industry news, and useful answers to your questions. Machine learning is changing the questions we can ask of the world around us. Here, we explore how to ask the best questions and what to do with the answers.
Talk Python To Me
| Listen Now | A podcast on Python and related technologies. If you've already explored the field of data science you'll no doubt be familiar with Python, one of the primary languages used in machine learning. This podcast deals exclusively with Python and is a must-listen if you'd like to hone your development skills in this exciting field.
Tech Podcast's - Data Science, AI, Machine Learning (BEPEC)
| Listen Now | Build your skills on Data Science, Artificial intelligence, Machine Learning and Deep Learning. They cover topics such as machine learning algorithms, data science projects, data science resume building tips, data science algorithms, data science job life, machine learning applications, machine learning implementations, big data and more.
Data science is one of the fastest growing industries in the world, and this podcast by BEPEC will help you carve out a career in the field. We like it because they talk about the day to day life of a data scientist, skill development and how to transition into, or progress with your career.
The AI Element
| Listen Now | AI is everywhere right now: in our news feeds, our devices, our homes. The hype is spreading quickly to permeate every industry, and the executives of the world want to know, "Beyond the hype, what can this tech actually do for my business?" Element AI's Alex Shee sits down with influencers across several industries to investigate how AI is being used to disrupt and innovate.
Alex Shee explores the flip-side of AI and talks to guests about what AI is "actually" capable of today. Issues like data governance, cyber security and sustainability are important and we like this important perspective that Alex and his guests bring to the table.
The AI Podcast
| Listen Now | AI has been described as "Thor's Hammer" and "the new electricity." But it's also a bit of a mystery – even to those who know it best. In this podcast you can learn from the world's leading AI experts to explain how it works, how it's evolving, and how it intersects with every facet of human endeavour. This podcast is produced by NVIDIA.
"Great guests, short format, enough depth to make you want to look up detail online". You might be excused for thinking this podcast would be all about NVIDIA but you'd be dead wrong - it's loaded with deep and insightful discussion on all things AI. The hosts do an excellent job of keeping the discussion focused and together with expert guests they cover every conceivable angle of Artificial Intelligence today. It's a great way to keep up to date with techniques and trends in the AI community.
The Georgian Impact Podcast | AI, ML & More
| Listen Now | The Georgian Impact Podcast brings you a first-hand look at the big opportunities and issues facing today's software entrepreneurs. Understand a range of topics including machine learning, differential privacy, linguistics, security, chatbots, natural language processing and more.
"Thoughtful and even occasionally provocative, but always engaging views on tech especially AI." This is an excellent podcast for software engineers and founders about the impact and opportunities that machine learning presents to us. We recommend it if you are interested to hear some fresh perspectives on data governance, privacy and trust in the field of AI.        
The Super Data Science Podcast
| Listen Now | Kirill Eremenko is a Data Science coach and lifestyle entrepreneur. The goal of the Super Data Science podcast is to bring you the most inspiring Data Scientists and Analysts from around the World to help you build your successful career in Data Science. Data is growing exponentially and so are salaries of those who work in analytics. 
Learn about Big Data, visualization, predictive modeling, forecasting, analysis, business processes, statistics, R, Python, SQL programming, tableau, machine learning, hadoop, databases, data science MBAs, and all the analytics tools and skills that will help you better understand how to crush it in Data Science.
What do the fans think? "Kirill has a skill that is lost by many. The ability to truly break down complex ideas and topics into simple ones that are easy to understand" "Being in this data science and analytics industry, I think this will be my go to podcast for my career." 
The TWIML AI Podcast (formerly This Week in Machine Learning & Artificial Intelligence)
| Listen Now | Machine learning and artificial intelligence are dramatically changing the way businesses operate and people live. The TWIML AI Podcast brings the top minds and ideas from the world of ML and AI to a broad and influential community of ML/AI researchers, data scientists, engineers and tech-savvy business and IT leaders. Technologies covered include machine learning, artificial intelligence, deep learning, natural language processing, neural networks, analytics, deep learning, computer science, data science and more.
"Quality topics, quality guests, and extremely high-quality production" - this is how fans describe the TWIML AI podcast, hosted by Sam Charrington. It's a great podcast to add to your playlist if you want to stay in touch with developments in machine learning - you'll walk away with something new and exciting to think about after every episode. 
Women in Data Science
| Listen Now | Leading women in data science share their work, advice, and lessons learned along the way with Professor Margot Gerritsen from Stanford University. Hear about how data science is being applied and having impact across a wide range of domains, from healthcare to finance to cosmology to human rights and more. 
Brought to you by the Stanford Institute for Computational & Mathematical Engineering (ICME) and the Stanford School of Engineering, the Women in Data Science podcast should be on your list no matter who you are. Interesting discussions on building a data science startup, solving human rights issues and eliminating bias through machine learning are just the beginning.
 
We hope you enjoyed our list of top podcasts in the data science, machine learning or artificial intelligence space. There's a lot there to consider but we're confident you'll find something new in the list. 
Here at Unearthed we've built one of the world's largest communities of startups, developers, and data scientists. If you've made it this far then we would love to have you involved in our competitions - you'll help to develop solutions to some of the toughest problems faced by industry today. 
Hundreds of thousands of dollars in prizes have already been earned by the people just like you (and that's just the beginning!) Expand your network, make new friends around the world and use real data from top companies to make industry more efficient and sustainable. 
Get involved at Unearthed.solutions