Accelerator collaboration with Origin Energy and Advance Queensland wins Queensland Mining Award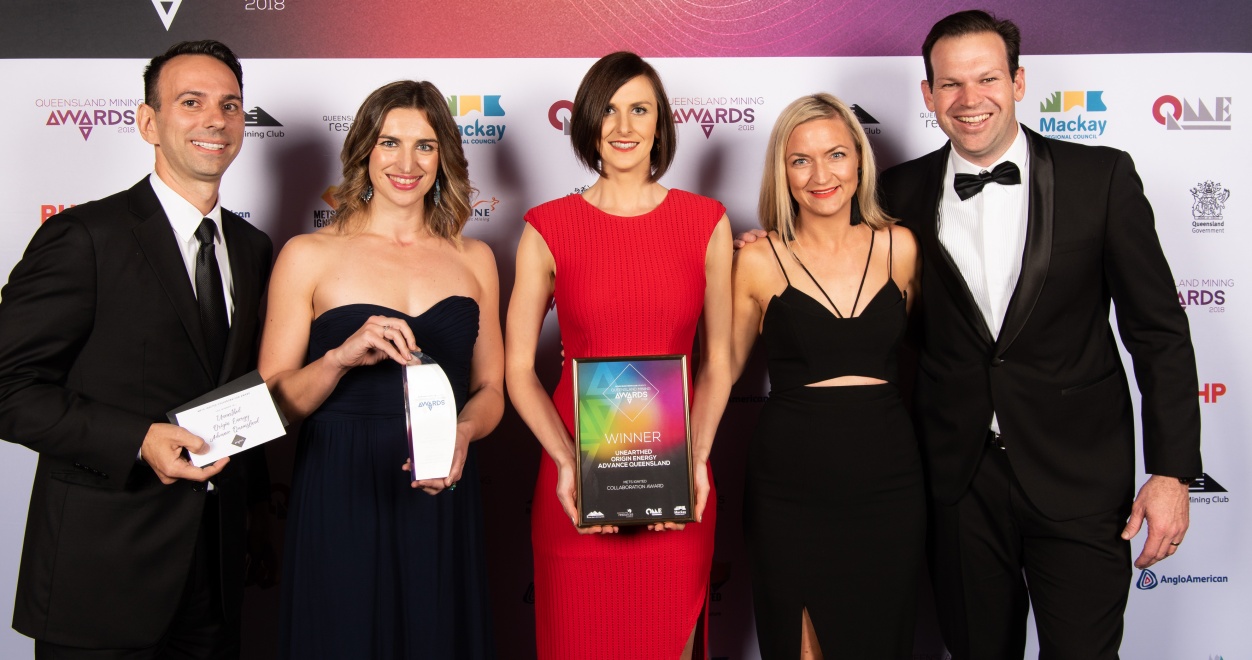 We are over the moon that the Unearthed Accelerator collaboration with Origin Energy and Advance Queensland won the METS Ignited Collaboration Award at the Queensland Mining Awards this year. 520 industry professionals were in attendance at the awards, jointly hosted by Bowen Basin Mining Club and Queensland Resources Council at the Mackay Entertainment and Convention Centre on Wednesday 25 July 2018.
We are proud of our program that accelerates the development and adoption of transformative technologies in the energy and resources sector. This would not have been possible without the incredible support of our partners Origin and Advance Queensland and of course the talented startups that took part in the program last year: Canaria, Flowpay, Modulr Tech and SiteSee.
Thank you to Bowen Basin Mining Club and Queensland Resources Council for a fantastic night celebrating mining innovation and to METS Ignited for sponsoring the award category. Congratulations to all finalists and winners:
QME Best Product Launch Award – Control Systems Technology
METS Ignited Collaboration Award – Unearthed/Origin Energy/Advance Queensland
McLanahan Safety Award – Greyhound Australia
Greyhound Australia Cost Saving Initiative Award – Quarry Mining
Economx Time Saving Initiative Award – Downer Blasting Services
JCB CEA Project Innovation Award – Mine Energy Solutions
Hastings Deering Community/Staff Engagement  or EEO Award – Rio Tinto
Bowen Basin Mining Club Queensland Mining Contractor of the Year – Wolff Mining
The Queensland Mining Awards have been designed to celebrate the spirit of innovation, excellence and collaboration that is fostered within industry. All companies involved in Queensland's minerals and energy resources sector, from mining companies right through to contractors and suppliers, are invited to enter the Awards. Read the full results story in Australian Mining.
The Unearthed Accelerator is a mentor-driven program supported by Origin Energy and Advance Queensland, that connects technology startups to industry customers and over fifty mentors and advisors, while helping achieve their entrepreneurial vision. Participating startups have access to seed funding, content delivery, one-on-one sessions with business experts, plus a vibrant co-working space to build great networks and work with others doing great things.
Times have changed whereby startups can now choose from a variety of programs to help them build, grow and scale. However, not enough programs bring customers along on the journey," said Accelerator General Manager, David Camerlengo. "The Unearthed Accelerator provides the skills, funding and more importantly access to the huge market of resources customers to maximise startup success. We are excited to discover new global talent and look forward to welcoming the 2018 startups to the "Build" phase of the Accelerator program in October."
For more information on our 2018 Accelerator program, visit: https://unearthed.solutions/accelerator.