Innovators strike gold with Evolution Mining at Unearthed Sydney hackathon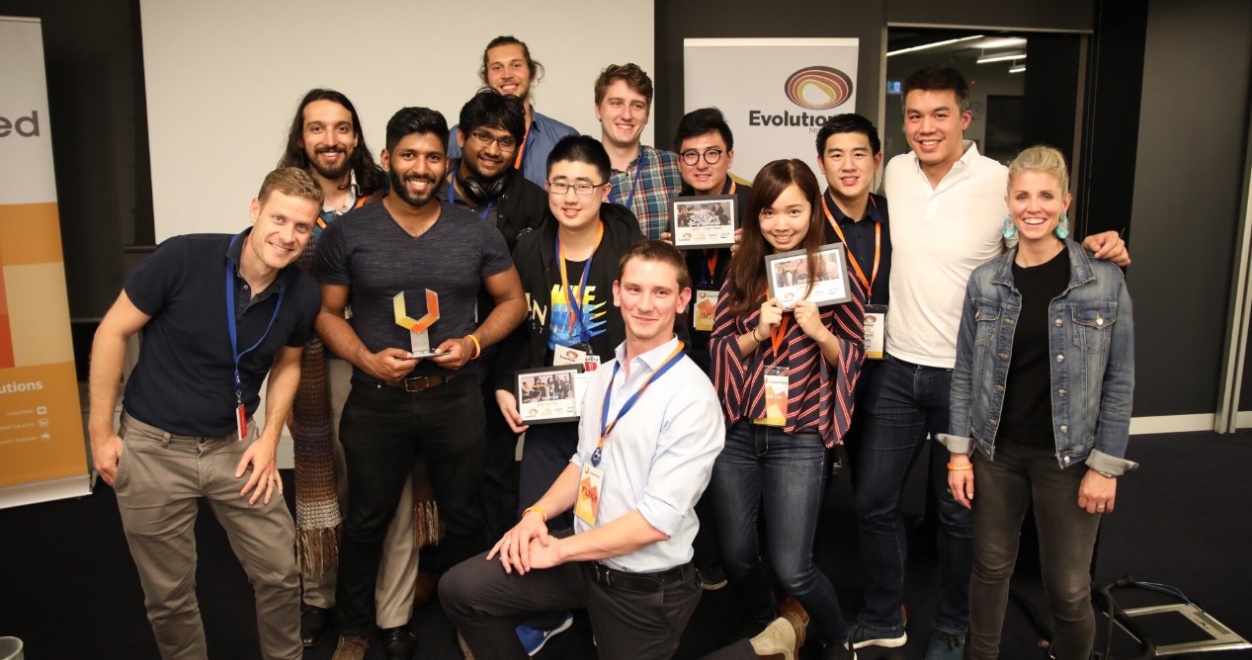 Unearthed Sydney 2018 marked the fourth anniversary of the mining technology hackathon that invites Sydney's brightest minds to dig through data and apply fresh ideas to real industry problems for real rewards. The 54 hour open innovation event took place from 12 – 14 October 2018 at the Amazon Web Services Sydney office, with three operational challenges and data sets provided by Australian gold miner Evolution Mining: modelling concealed gold at Evolution's Mt Rawdon open-pit mine, optimising truck payload and cycle speeds at the Cowal gold mine, and minimising the amount of waste mixing with ore at Evolution's Cracow underground mine.
Evolution Mining General Manager, Transformation and Effectiveness Mark Boon said:
We are actively looking for ground-breaking ideas from the group to transform the company's ounce and cost profile, whilst having a myopic focus on value accretion. Partnering with Unearthed in hackathon events is a part of that process, offering a greater potential of ideas to solve key business problems or develop workable solutions from beyond our direct employees," said Boon.
On opening night, Evolution Mining Executive Chairman Jake Klein delivered a keynote address to the Unearthed Sydney crowd, pointing out:
The world's knowledge is doubling every year and mining is just at the start of its technological revolution," said Klein.
Amazon Web Services Head of Worldwide Business Development, Mining & Resources, Matt Tuohy said:
Velocity is the key business advantage today and we need more builders and developers to solve future mining challenges."
New South Wales' top students, innovators, and entrepreneurs formed fourteen diverse teams on Friday night to work on proprietary data and access industry experts in the process of prototyping new technological solutions to Evolution Mining's three challenges over the course of the weekend.
Mining software solutions provider MICROMINE supplied Micromine licences and their Geology Consultant Victor Cha acted as a specialist mentor for Unearthed Sydney participants who chose to tackle Evolution Mining's Buried Treasure challenge.
At the end of the weekend, teams pitched their technology prototypes to the esteemed judging panel and fellow innovators.
First prize and the people's choice award were taken out by team Regressive, who developed 7th Gear, a truck short interval control solution to Evolution's Speed Runs: optimising truck payload and cycle speeds challenge.
We used machine learning to train a realistic model of the rimpull curve based on real world data that works on the assumption that the drivers know the machinery and the roads the best. Using this model, we calculate time to travel over a segment of length and grade while carrying mass," said team member Florian Fahrenholz.
The team were awarded $3000, plus tech credits courtesy of Amazon Web Services for their innovative solution.
Unearthed Sydney hackathon veterans Team Datacake also tackled Evolution's Speed Runs challenge and won second place ($2000 + AWS credits) for their Datacake model to optimise the truck payload and their speed by uncovering hidden patterns from existing datasets through the use of Machine Learning and Advanced Analytics techniques.
Our solution doesn't require any special equipment and can be easily rolled out now since we only recommended a new payload. The customer can expect an increase of 4% of payload with minimal impact on their cycle time. This represents up to $3.67M additional revenue per year simply by targeting a new payload," said team member William So.
The young innovator award ($1000 + AWS credits) went to UNSW-Mining for their GreenWaste two-tier physical solution to Evolution's Mix Tricks challenge, which involved minimising the amount of waste mixing with ore at Cracow underground gold mine.
Numerical simulation results suggest that using this two-tier solution, the mine can achieve a 20% reduction in material handling, 25% reduction in waste dilution and 15% increase in ore recovery. This can directly save 1 million dollars per year for Cracow," said team member Flynn Malnic.
Congratulations to the winners of Unearthed Sydney 2018 and all the talented innovators who participated at the event.
Unearthed would like to thank our supporters: Evolution Mining, Amazon Web Services, SAP and MICROMINE, and the mentors and judges who volunteered their time to share their domain expertise, provide valuable feedback, and improve the participants' understanding of the challenges and data.
View the event photos and livestream pitch video over on Facebook.
Full details on Unearthed and its global open innovation program for the resources sector can be found at: https://unearthed.solutions.