Mandatory hackathons refine skills and reap results for UTS students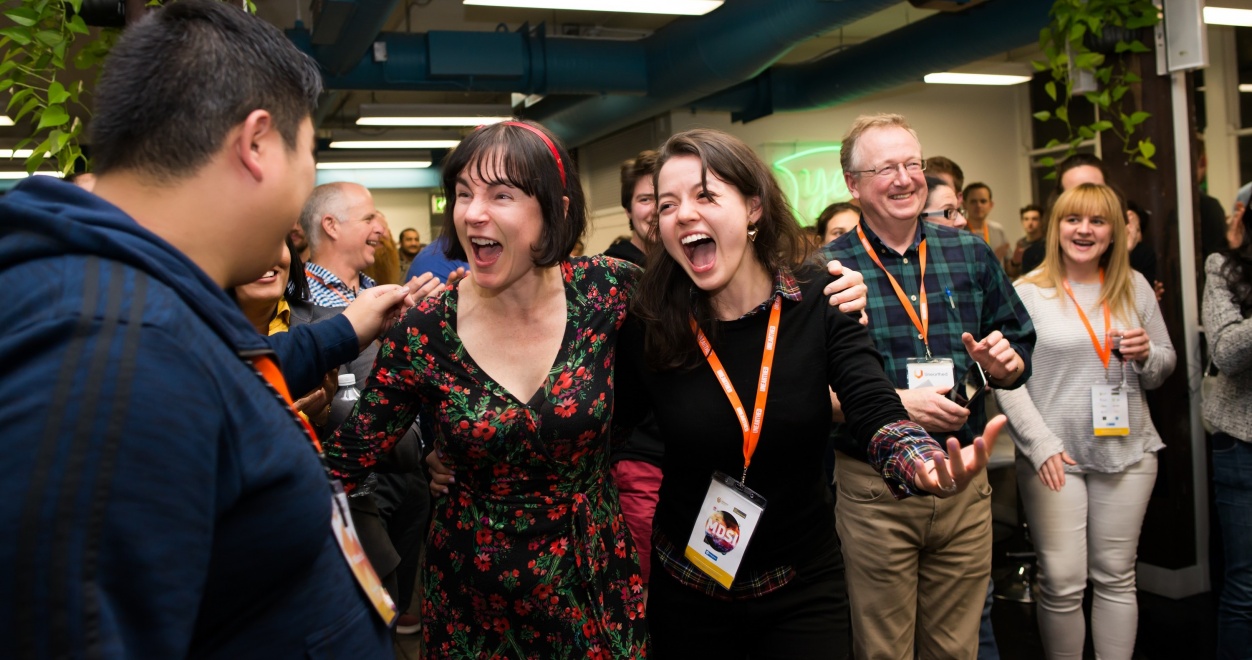 BACKGROUND
In 2015, a team of fresh faced
To say that they felt hesitant about attending the event would be an understatement, as everyone had different and predominantly non-data science backgrounds, and they were only in the first semester of their masters studies.
Despite their lack of confidence and inexperience with the hackathon format, they decided to give it their best shot.
EXPERIENCE
Throughout the weekend they went from having absolutely no idea where to start, to gaining enough insight to commence tackling the challenge.
The biggest attractions to the event, according to Course Director Dr Theresa Anderson, were the industry mentor and expert contact, access to authentic big data and exposure to the open innovation philosophy.
UTS MDSI student Perry Stephenson said that it was an extremely valuable learning experience for his team. "We learnt a heap and spent a lot of time on Google figuring out how to do things. It really shed light on what was in our current tool kit and what was missing," he said. Perry and his fellow students must have perceived it to be worthwhile from the outset, as their attendance was voluntary.
Dr Anderson was extremely encouraged to see the excitement and energy at the event and the light bulb moments with connections to curriculum happening in real time.
"Hackathons insist on lateral thinking and moving very quickly from one idea to another. They teach you to be adaptive; responding well when you hit a dead end," she said.
UNEARTHED PART OF UTS CURRICULUM
From Theresa's point of view, seeing the way that the students took to the challenge at Unearthed Sydney helped her formulate an argument to take to other staff about the necessity of embedding hackathons in the curriculum.
As a result of their experience at Unearthed Sydney, Theresa has retooled the second year of the degree to make Unearthed and other hackathons a key element of the program.
"This great initiative provides our students the opportunity to work on real world challenges with industry and peers. By means of teamwork and innovative thinking, our students bring to life an aspirational way of leveraging Big Data in a complex resources sector. It's inspiring to see young people create solutions for the future," Dean, Professor Ian Burnett, Faculty of Engineering and IT, University of Technology Sydney.
Students of the Masters of Data Science and Innovation will now participate in multiple real world data challenges, as they allow access to authentic data, feedback about the challenge from industry mentors, and advice about the feasibility of an idea.
Theresa notes the importance of practising what you preach: "if you aren't finding ways to connect with industry and real life situations in the innovation arena, you are shooting yourself in the foot," she said.
PROGRESS
Following Unearthed Sydney 2015, the team had the confidence to take on their next hackathon, hosted by the NSW Data Analytics Centre (NSW Department of Finance, Services and Innovation). The data sponsor for the event was Transport for NSW; their challenge: to help identify how to increase patronage to the Parramatta area.
RESULTS
The team won first place for their award winning solution: a machine learning system that can predict patronage based on public holidays, weather and other events, allowing Transport for NSW to redistribute their resources to meet demands and ensure a more enjoyable consumer experience.
In addition to their event success, the core team of four have all secured data scientist roles whilst completing their studies part time. Daniel is data consulting for Palantir, Perry is working for Commonwealth Bank, Passiona for the NSW Data Analytics Centre, and Greg for Westpac. Perry was quick to credit Unearthed for spring boarding this trajectory.
Since then, UTS MDSI students have participated in additional hackathons, including Unearthed Sydney 2016, where 3 of the 4 top prizes were awarded to their teams.
Team DataCake took out first place for their data analytics cloud solution for helping to predict the yield of South32's alumina production using R Server, AWS, SQL Server and Tableau. Second place went to Perry's Fan Club for their human-centric, dual-model big data solution to Newcrest's prediction and prevention of SAG mill surge events challenge, and Team Beaver received the Young Innovator Award for their machine learning algorithm, which predicts and prevents surge events in the SAG mill with 99% accuracy and reproducibility.
When asked how they felt about winning first prize at Unearthed Sydney 2016, team DataCake representative Anthony So said that they were all feeling very tired, but very excited.
"It was an amazing experience. What we can achieve in two days with teamwork, focus, and the help of the mentors is just amazing," he said.
WHAT'S NEXT?
As for their next hackathon experience, students from the UTS Masters of Data Science and Innovation degree will be heading along to Unearthed Sydney 2017 from Friday 25th – Sunday 27th August. We wish them all the best of luck (not that they need it).
For more information about Unearthed Sydney 2017, visit the event page.