Unified vision: Multidisciplinary team DeepSightX a winning combination in Explorer Challenge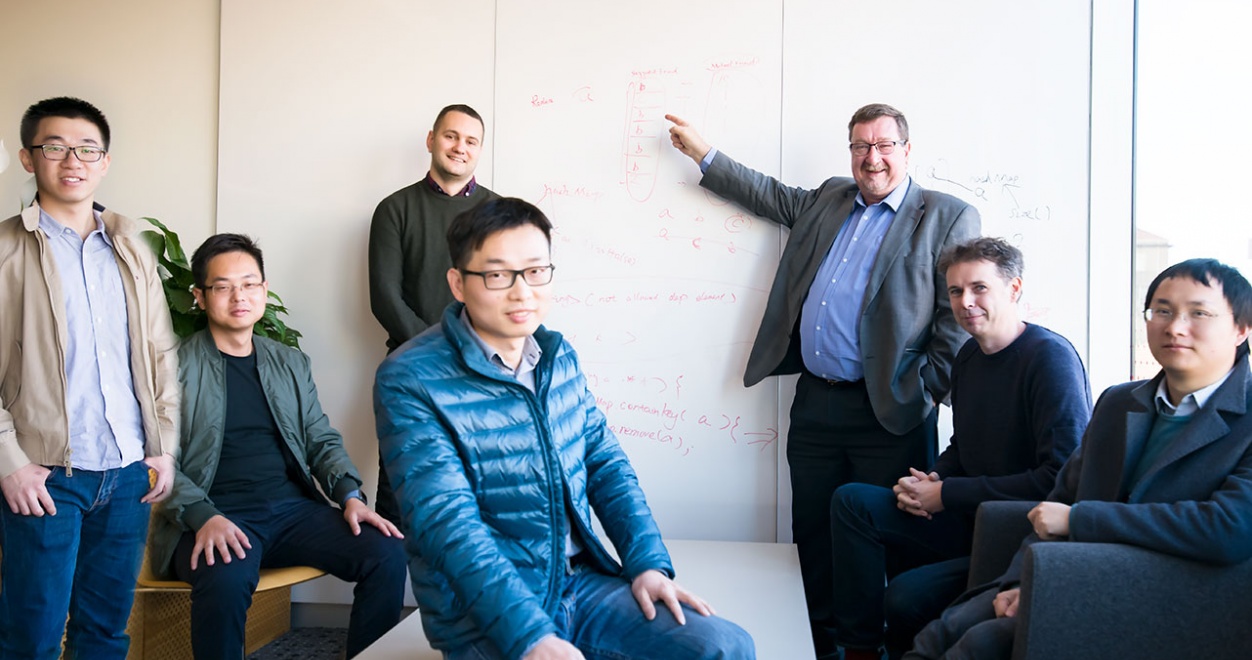 An impressively diverse team of researchers from the Australian Institute for Machine Learning (AIML) and the Institute of Minerals and Energy Resources (IMER) – both hosted by the University of Adelaide – collaborated with industry experts in minerals exploration (Austrike Resources) and geoscientific modelling (Gondwana Geoscience) to tackle the OZ Minerals Explorer Challenge. The nine-member team developed an artificial intelligence (AI) model, DeepSight, in response to the challenge, securing themselves second place and A$200,000.
About the challenge
Unearthed announced the winners of the Explorer Challenge on 28 June 2019, following three intensive months (and undoubtedly many cups of coffee) as teams competed for a share of a A$1 million prize pool to develop new ideas about mineral exploration.
In a bold move, mining company OZ Minerals handed over more than two terabytes of private data from their own exploration project, in addition to over three terabytes of public data, in order to crowdsource predictions on the next mineral deposit in South Australia. Teams consisting of geologists, geoscientists and data scientists stepped up to the challenge, finding new ways to overhaul and optimise the mineral exploration process.
DeepSightX: 2nd prize
Javen Qinfeng Shi
Hao Zhang
John Alexander Anderson
Karl Hornlund
Dong Gong
Ehsan Abbasnejad
Zifeng Wu
Lingqiao Liu
Matthew Zengerer
Christopher Matthews
Anton van den Hengel
This Adelaide-based team drew together diverse skills and worked at the intersection of AI and geoscience to develop a drilling exploration plan that would take advantage of the overwhelming data available, while being justifiable from a geoscientific perspective.
Their approach
DeepSightX integrated the latest concepts from mineral systems modelling with recent breakthroughs in deep learning and computer vision. Their work has provided promising exploration targets in the Prominent Hill Region, supported by best practice geoscience.
Team lead Javen Qinfeng Shi from AIML says that working on the challenge has reinforced the transformative power of machine learning.
Within three months, the DeepSightX team has developed a world-class predictive modelling capability, which illustrates the disruptive potential of machine learning when paired with expert domain knowledge."
He explains that the team began with a deep dive into the data at hand. "Our engineers developed a variety of interactive visualisation tools, in order to facilitate our domain experts' ability to explore the data. In parallel, our geoscientific modelling experts produced state-of-the-art models of total magnetic intensity (TMI), gravity and magnetotelluric (MT) data for the Mt Woods region."
From there, they used two streams of predictive modelling: one grounded in mineral systems exploration and geoscience (dubbed MSGeo), which leveraged pathfinder geochemistry, structural analysis, and remodelled MT data; and a digital model (dubbed DSDig) using the latest techniques in deep learning and computer vision to manage "noisy, incomplete and highly dimensional data".
The MSGeo and DSDig streams were developed in parallel using an iterative approach, using the feedback between the streams to converge on our final set of recommendations," Javen explains. "Of the 11 proposed drilling targets, two were standout MSGeo targets; five were supported by both MSGeo and DSDig modelling; and four were new DSDig targets permissible under the MSGeo model."
Implications
The team is celebrating their win as an achievement for the whole of their region. "It demonstrates that South Australia has exceptional local talent," says Javen. The prize, they say, also recognises DeepSightX "as a new and competitive minerals exploration AI team that applies a multidisciplinary approach with the requisite domain expertise to tailor target modelling to each new geological and commodity setting as these arise."
What's next?
The team plans to begin commercialising their solution.
The next step is to seek support from all levels of the university, build capability, and start the commercialisation process," explains Javen. "We will consider all options and develop a holistic strategic plan for the future."
The datasets provided by OZ Minerals for the competition allowed the team an unprecedented opportunity to test cutting-edge concepts – and now they're hungry to continue.
Javen says that the project has far more to offer, and that the competition's constraints (including its time-frame) limited DeepSightX's outputs just as they were hitting their stride. "We would like to put more time into some of the ideas and approaches we were developing, particularly in terms of melding the AI and geoscience domain capabilities."
We can see at least another five mixed DSDig and MSGeo targets with potential for more. We also recommend further exploration surveys to add key new data under leading-edge concepts. The competition is a prelude for DeepSightX, and we look forward to the exciting journey ahead."